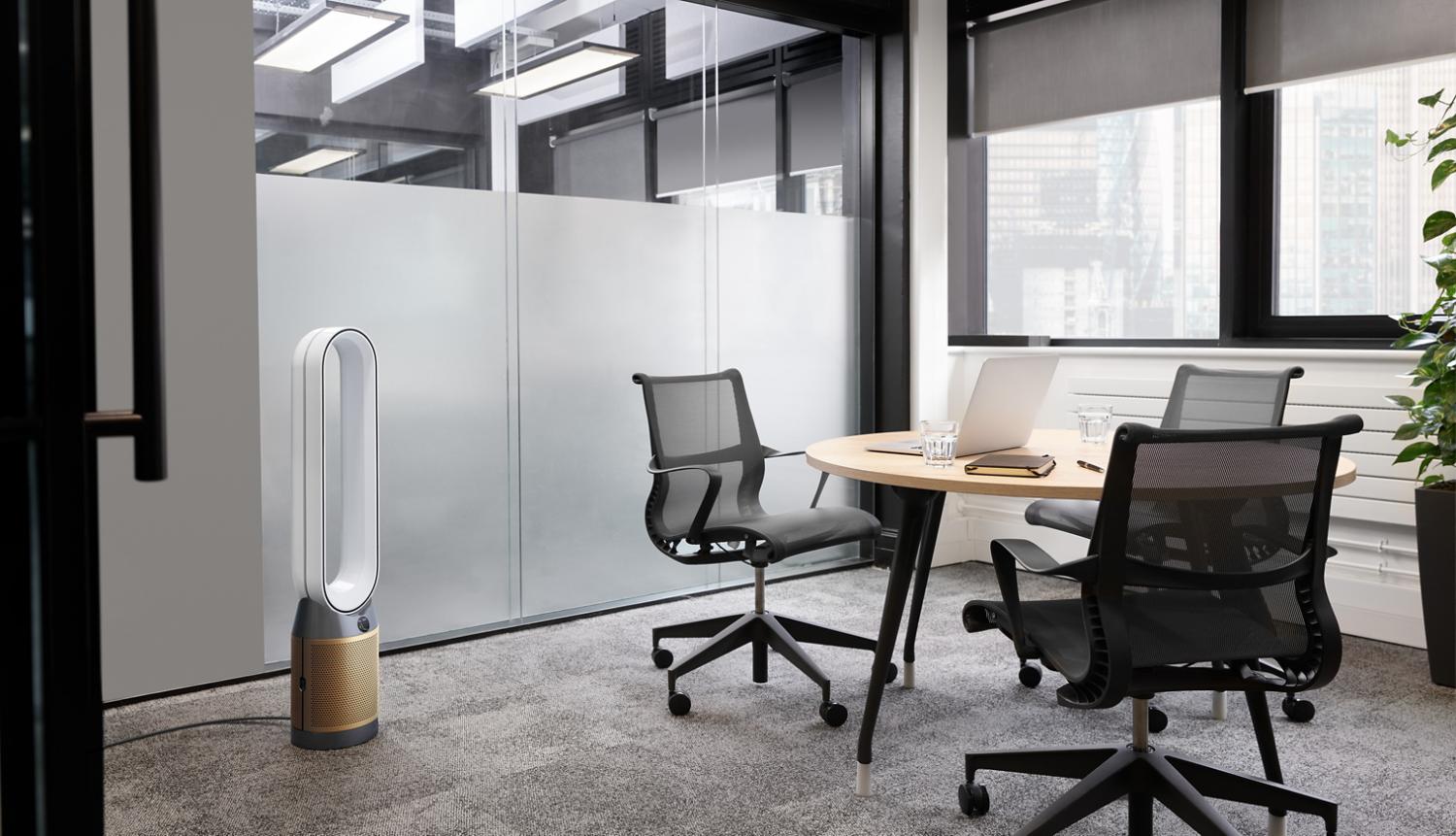 How can purification complement ventilation?
Throughout the COVID-19 pandemic, ensuring spaces have adequate ventilation has been front of mind for facilities managers and homeowners alike.
Ventilating a space is widely acknowledged as a method to help improve indoor air quality[1]. More recently, it has also been recommended by the World Health Organisation (WHO) to help reduce the spread of COVID-19 indoors[2]. Social distancing, wearing masks and other pandemic behavioural changes have increased global awareness of the airborne nasties present in the air we breathe.

 

While ventilation is important in bringing 'new' air into a space, how do we ensure that the air circulating is clean? Dyson purification can complement existing ventilation systems, providing high-quality filtration and powerful projection to support the circulation of cleaner air around the room.
What is ventilation?

Ventilation is defined as a system or means of providing fresh air to a space[3], usually involving some type of air exchange whereby stale indoor air is replaced or diluted with fresh or outdoor air.  Common ventilation methods include natural ventilation, where a space is ventilated by opening windows or doors to allow air from outside to come indoors, or mechanical ventilation, for example by installing a Heating, Ventilation and Air Conditioning (HVAC) system, used to transport air both into and/or out of a building.

Are there limitations to ventilation?

While ventilation can help to control indoor air, it can have limitations. If outdoor air quality is poor, natural ventilation through opening doors and windows may cause air pollution from outside to enter the indoor space. In urban areas, pollution such as NO2 and PM2.5 emitted by traffic or industry could come inside and negatively impact indoor air quality.

 

Some buildings may have systems that recirculate indoor air, which can move pollutants between or around rooms. Outdoor air is not the only source of indoor pollutants. From benzene released by furniture to formaldehyde given off by printing devices, pollution can be generated by seemingly innocuous indoor sources.
How can purification complement ventilation?

Dyson purification technology can complement the circulation of air around a room, purifying simultaneously. As well as the filter, the whole machine now achieves HEPA H13 standard- it captures 99.95% of particulates as small as 0.1 microns, such as allergens, bacteria, pollen and mould spores[4]. Dyson engineers took a forensic approach to achieving this new standard of filtration, creating additional high-pressure seals throughout the machine to prevent dirty air from bypassing the filters and carrying pollutants back into the room.

 

Using Dyson Air Multiplier technology, the machine then projects purified air around the room[5]. Auto mode enables the machine to maintain a preferred room temperature[6], and respond to pollution events, while the Dyson Link app and voice control activation helps avoid touchpoints and possible contamination[7].

 
Engineered for real spaces

Dyson Purifier machines are engineered for real spaces. Dyson engineers developed the POLAR test, based on a large room size of 81m3 and with nine sensors spaced evenly throughout the chamber, the test ensures thorough and even cleaning throughout the room.
[1] Ventilation strategies for good indoor air quality and energy efficiency. International Journal of Ventilation. Oli Seppanen, March 2008.
[2] Roadmap to improve and ensure good indoor ventilation in the context of COVID-19. World Health Organisation. March 2021.
[3] Merriam-Webster definition of 'ventilation'
[4] '1 Whole machine tested by independent third-party laboratory Airmid (Ireland) in 28.5m3 test chamber pre-conditioned to 20±3C and RH 50±5%. Influenza A (H1N1) aerosolised in the test chamber and airborne concentration observed for the duration of 60 minutes under maximum Fan speed.
[5] ¹In maximum setting. Tested for air projection (DTM 801) and purification coverage in a 81m3 room (TM-003711).
[6] Applies to Dyson purifier heaters only.
[7] Requires device to run app, Wi-Fi or mobile data, Bluetooth 4.0 support, and iOS version 10 or Android version 5 (or above). Standard data and messaging rates may apply. Voice control requires compatible device.
Sophie Godfrey-Phaure

Sophie Godfrey-Phaure


Email: sophie.godfrey-phaure@dyson.com