Dyson launches the most powerful robot vacuum with six times the suction of any other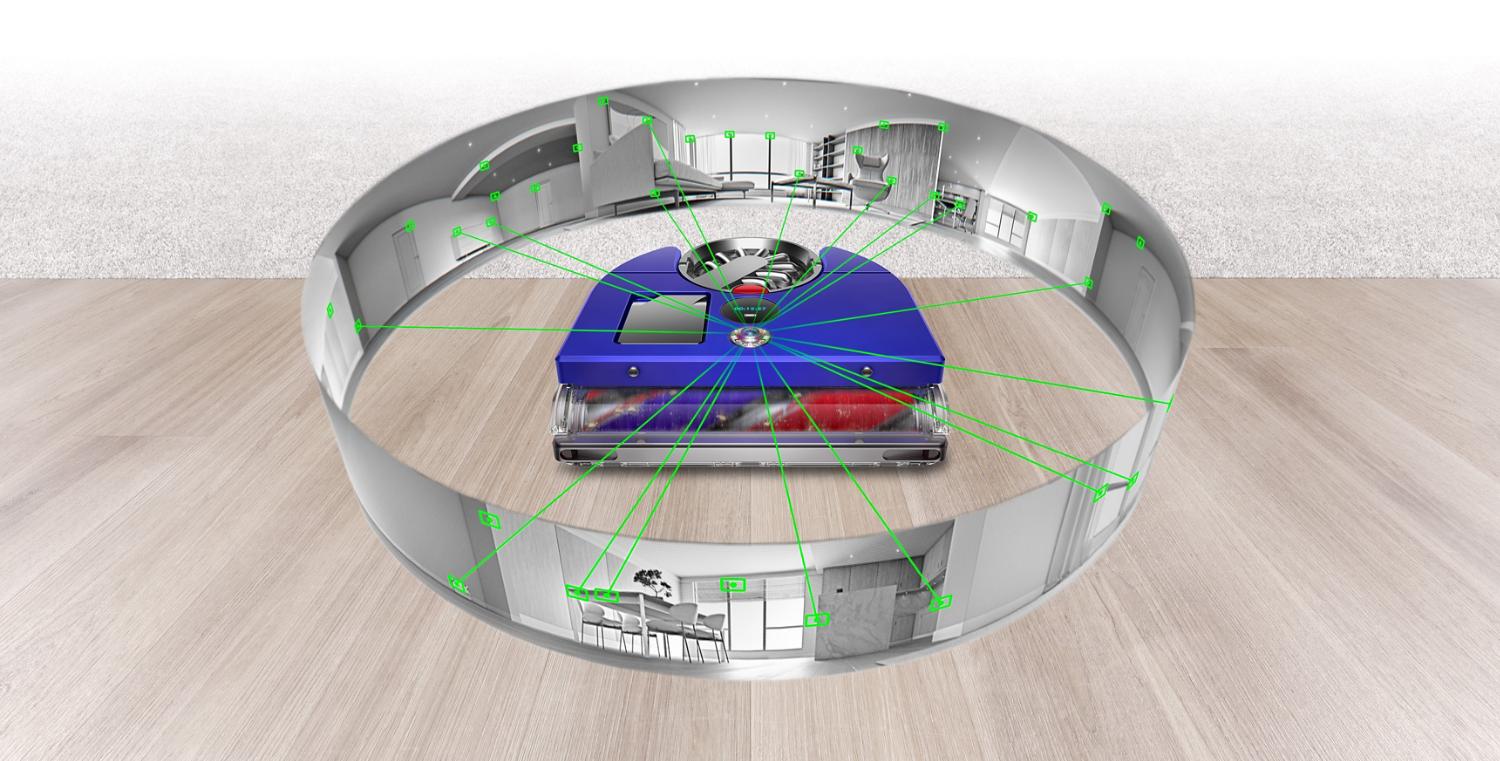 The most powerful robot with six times the suction of any other robot vacuum has today been unveiled by Dyson.
"A robot vacuum cleaner should not be a novelty. We know there are many frustrations with current robot vacuum cleaners – some have low suction power, or inefficient navigation systems which that they often get stuck and don't do a proper job of vacuuming.    Dyson Engineers have focused on developing machines that overcome these challenges and which increasingly anticipate our needs, understand its environment and operate autonomously." 
Jake Dyson, Chief Engineer of Dyson
Engineered with unique Dyson Simultaneous Localisation and Mapping (SLAM) technology, the Dyson 360 Vis Nav™ has a 360-degree vision system which knows where it has been, sees where to clean, and is intelligent enough to respond to dust sensed in the home and create dust maps of your home. The high-level processor thinks and adapts, collecting data from sensors to pinpoint its position within 71mm. 26 sensors on the robot performs specific tasks, including dust detection, obstacle avoidance and detecting walls to clean right to the edge.
"Robotic vacuum cleaners should be highly effective machines that intelligently clean your home, so you don't have to. Enabling these autonomous cleaners relies on highly complex algorithms, visual interpretation, dust sensing capabilities and powerful motor technology. Dyson engineers have taken everything we've learnt from developing our vacuum cleaners, combined it with intelligent software, to develop the Dyson 360 Vis Nav™ – the most powerful intelligent robot vacuum cleaner." 
Jake Dyson, Chief Engineer of Dyson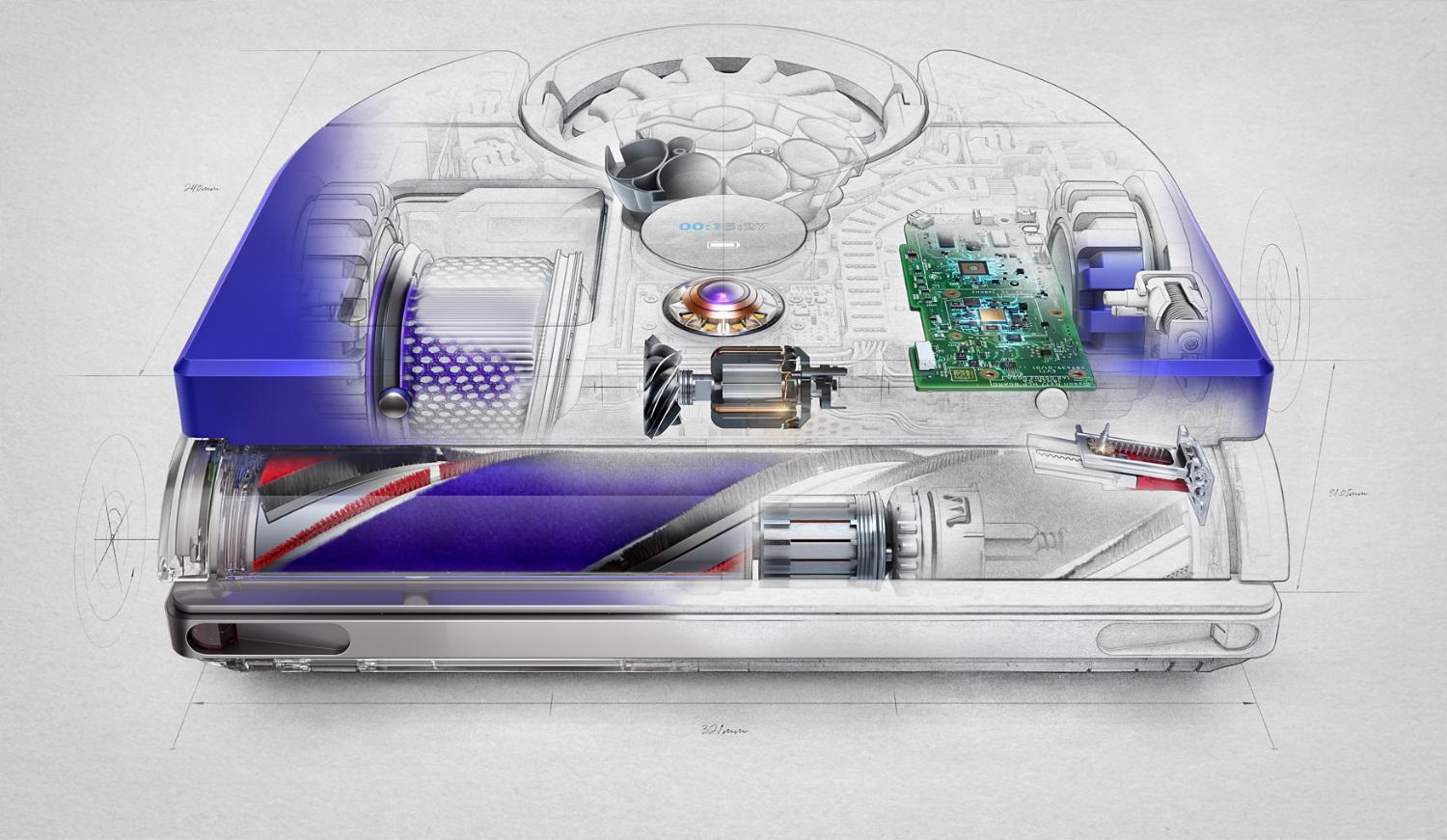 The Dyson 360 Vis Nav™ was developed by a team of engineers across Dyson campuses in the UK, Singapore, Philippines and Malaysia, with many based at Dyson's new RDD Centre for Robotics at Hullavington, UK.
The robot has a 360-degree vision system, using a fisheye lens which allows the robot to have a panoramic view of the home and accurately interpret its surroundings. Its SLAM vision system processes the information from the camera and remembers where it has been, and knows where to clean.
A Dyson Hyperdymium™ motor spins up to 110,000rpm to deliver six times the suction of any other robot vacuum. It also features Dyson's new triple-action brush bar – Dyson's first brush bar to combine three ways to deep clean with powerful suction: soft 'Fluffy' nylon for large debris pick up on hard floors; anti-static carbon fibre filaments for fine dust pick up on hard floors; and stiff nylon bristles to dig into carpets. As a result, the Dyson 360 Vis Nav™ picks up more than any other robot across any floor.
Side sweepers flick dirt away. Dyson sucks it up with an advanced actuator
Cleaning edge-to-edge was an important part of the brief, and along with the full-width brush bar, the robot also features a side edge actuator to redirect suction to the side. Wall-follow sensors allow it to get up to the edge of a room and follow the wall, deploying the actuator to pick up dust from the edge. 
Compact intelligence in a robot for independent cleaning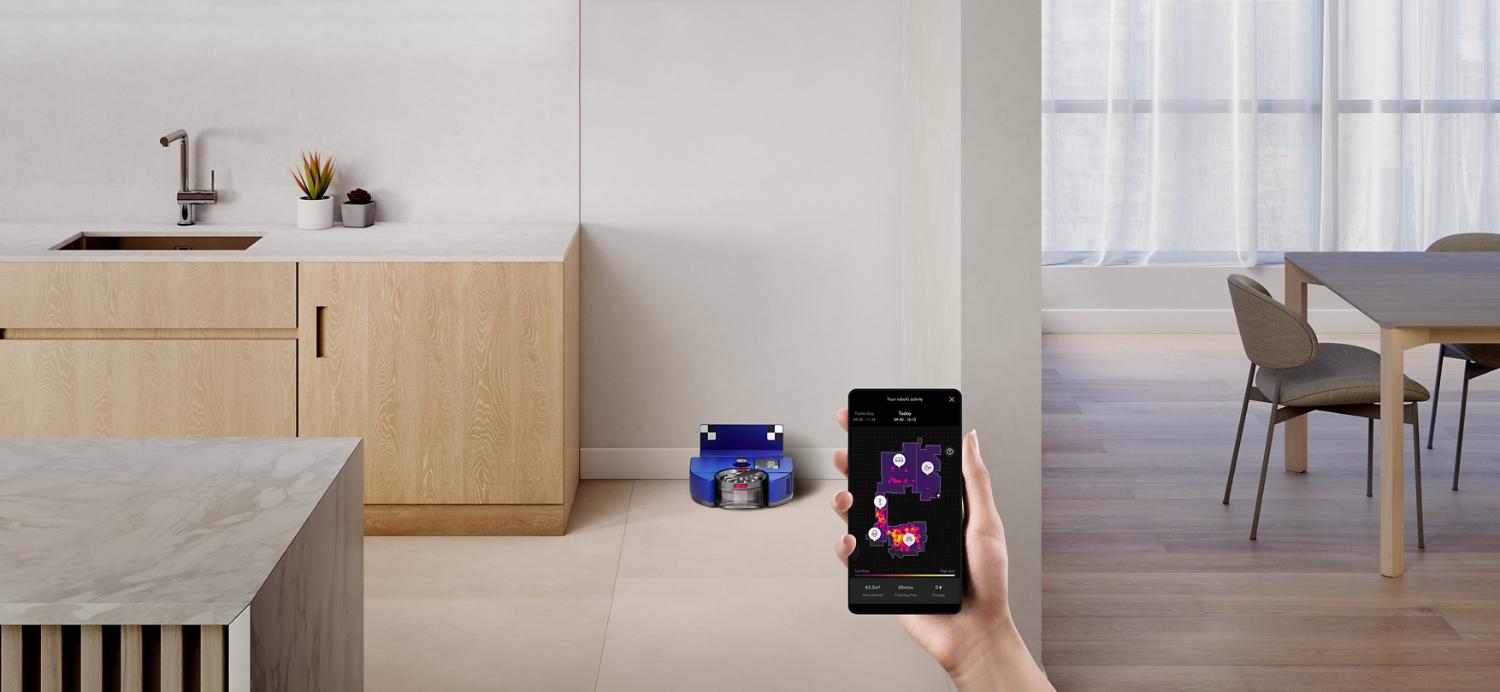 The Dyson 360 Vis Nav™ works in tandem with the MyDyson™ app to intelligently navigate and clean. Features on the app include the ability to create, customise and schedule zones. Owners can define zones in their home and set it to clean at specific times of the day.
Armed with a dual link suspension system, the Dyson 360 Vis Nav™ can climb up to 21mm. The machine has a low profile and can clean under furniture up to 99mm in height, easily navigating under and around furniture.