Here you can find helpful tips and advice, how-to videos, your user manual and more.
Getting started
If you haven't already, watch our quick-start video and register your machine in our getting started section.
Register your machine

Register for instant access to how-to guides, user manuals, and more. You can also receive tailored support, straight to your inbox. 
Watch the quick-start video
Our video shows you how to assemble and set up your vacuum, so it's ready to use.
Need any help?

If you need advice about your machine, you can chat to a Dyson Expert online, by phone or in-store.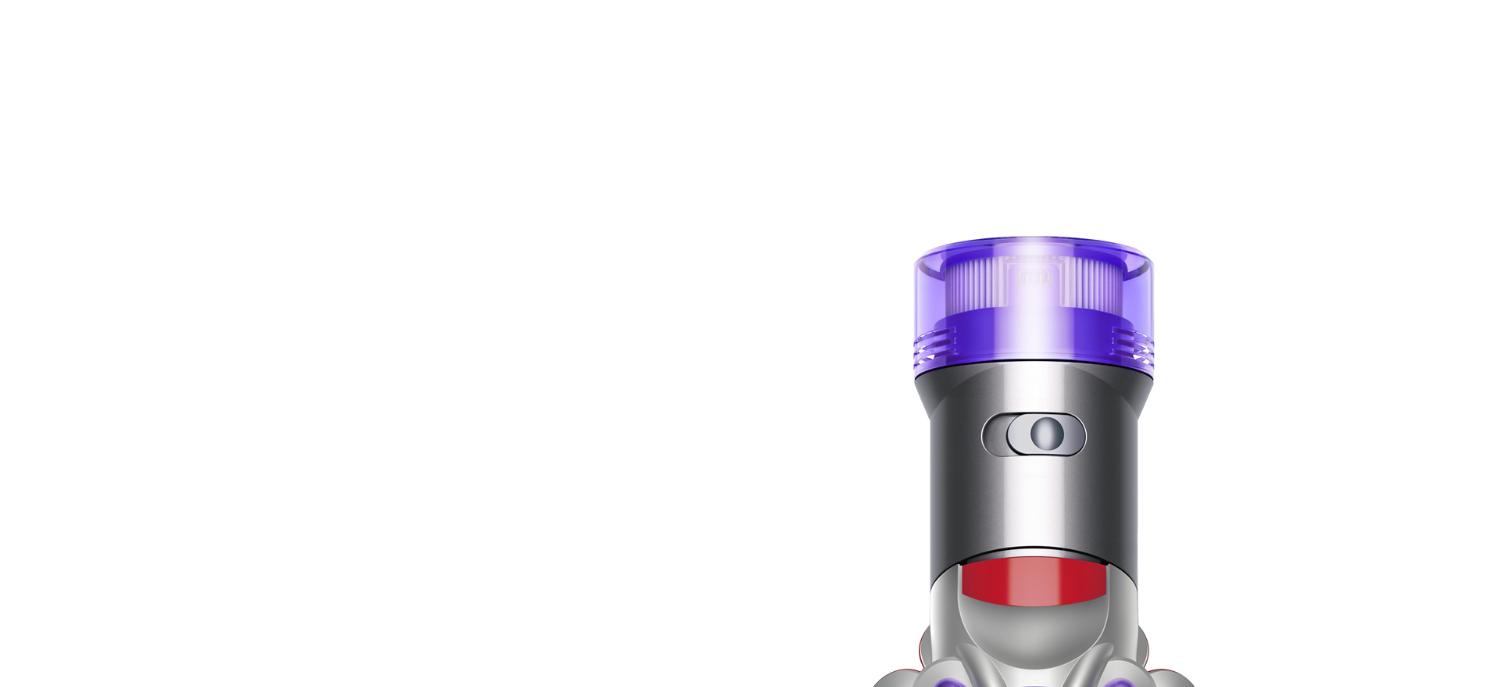 Getting to know your power modes
Powerful suction mode
The optimum balance of power and run time. For everyday cleaning.
Max mode
For the toughest tasks. Designed for quick, intensive cleaning of ground-in dirt.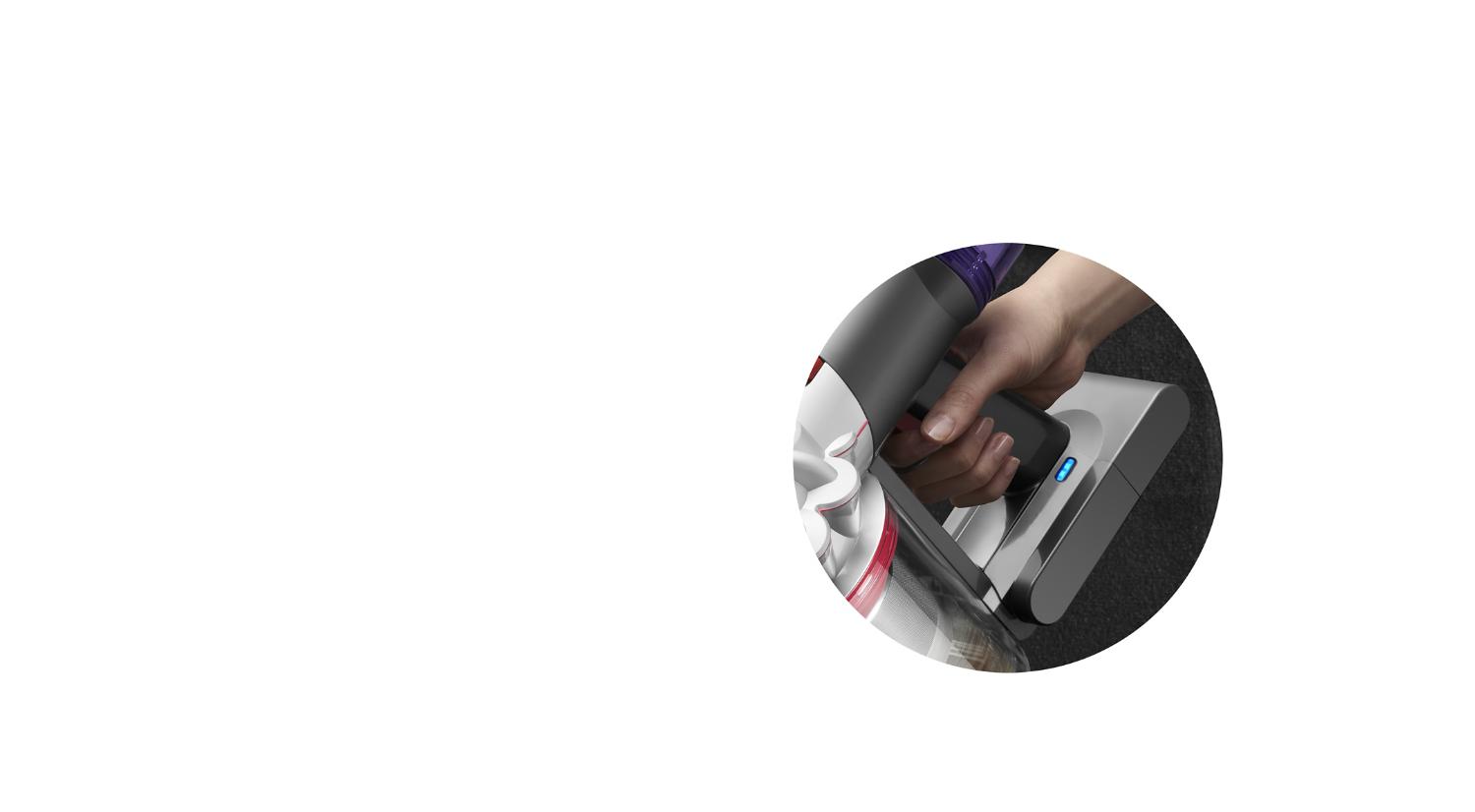 Understanding battery life
The LED on your machine indicates the battery level when in use, and the status of your battery while charging.
Your cleaner heads explained
Motorbar™ cleaner head

De-tangling vanes automatically clear wrapped hair from the brush bar as you clean. The integrated motor drives stiff nylon bristles into carpets to capture ground-in dirt.

Fluffy™ cleaner head

With soft woven nylon and anti-static carbon fibre filaments, the Fluffy™ cleaner head easily removes dust and debris from hard floors.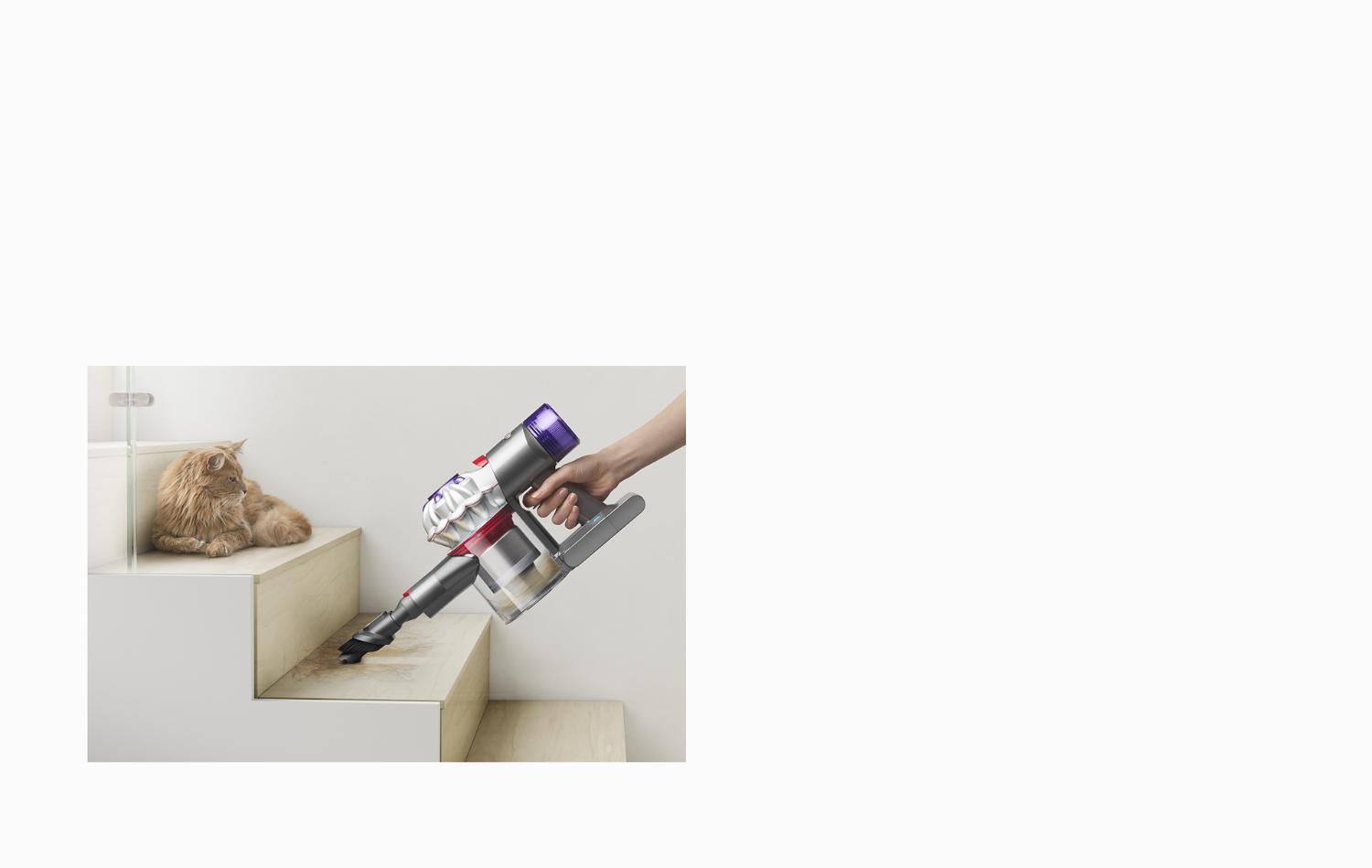 Powerful 3-in-1 cleaning
In just one click, your vacuum transforms to a handheld cleaner. With a choice of accessories to clean hard-to-reach areas all around your home and car.
Dyson-engineered accessories
Our accessories add even greater versatility. Each can be attached to the wand for cleaning up high, or directly to your machine for handheld cleaning.
Hair screw tool

Picks up long hair and pet hair. Fast. Conical brush bar spirals hair off and into the bin. Motor-driven cleaning for small spaces.

Light-pipe crevice tool

Crevice tool with LED lights lets you reach into dark, narrow spaces and see where you're cleaning.

Low-reach adaptor

Bends to comfortably reach down low. Engineered to clean further under furniture by adjusting the wand angle up to 90°.
Crevice tool

Engineered for precise cleaning around tricky edges and into hard-to-reach narrow spaces.

Awkward gap tool

Long and narrow, with a 22° twist to clean car storage compartments, tight gaps and hard-to-reach places.

Scratch-free dusting brush

Gentle on delicate surfaces. Self-cleaning – a rotating cuff keeps the soft bristles clear of dust.

Combination tool

Two tools in one – wide nozzle and brush, for quick switching between cleaning and dusting tasks around your home or car.

Mini soft dusting brush

For vacuum-assisted dusting of screens and surfaces. Soft bristles lift dust from delicate surfaces.

Fabric and mattress tool

Removes dust, dirt and allergens from mattresses, futons and upholstery.

Stubborn dirt brush

Stiff nylon bristles dislodge ground-in dirt from coarse carpets, high traffic areas and car interiors.

Up-top adaptor

Bends and locks at different angles. Fits any compatible tool for effective cleaning in hard-to-reach high areas of your home.

Extension hose

Adds up to 61cm of flexible reach to any tool attachment, to clean up high or down low in your home or car.
How to set up your wall dock
You can use the wall dock to store your vacuum, so it's always on hand and ready to use. Watch how. 
Getting the best from your battery
Charging the battery
You can charge your battery on or off the wall dock. Our video guide shows you how.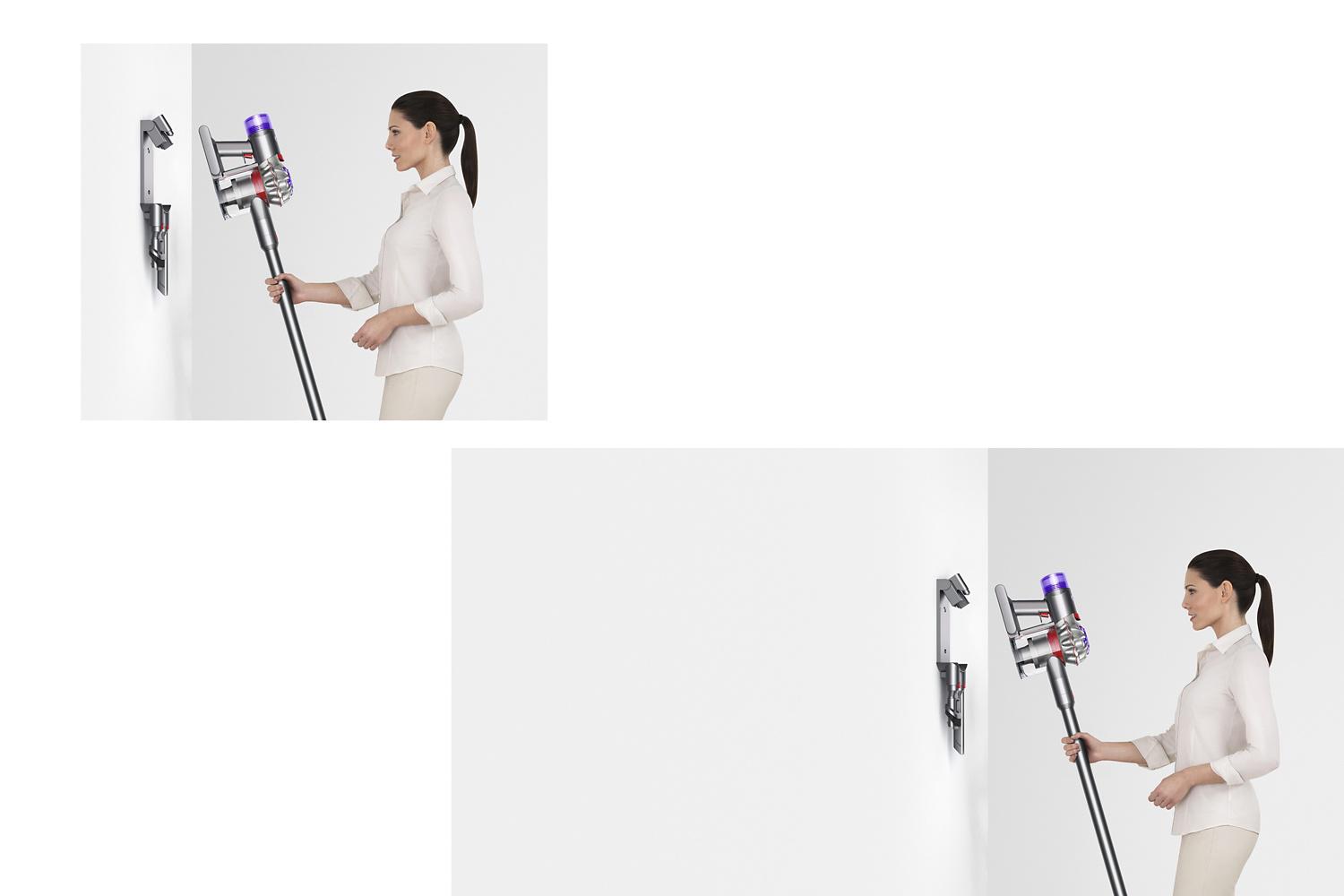 Battery tips
Charge between cleans
It can take up to 5 hours to fully charge your battery. When the LED is no longer illuminated, charging is complete.
Leave it charging
Your battery is designed to be left plugged in, so it's always ready to use.
Why it's important to clean your filter regularly
The filter captures microscopic dust, which can accumulate and affect performance. Help maintain suction by washing the filter at least once a month, or more frequently if used heavily.
How to clean your filters
1. Remove your Dyson filters

Lift the filter out of the cyclone assembly (filter A). Twist and remove the filter at the back of your machine (filter B).

2. Remove excess dust

Tap your filters lightly to remove any loose dust and debris.

3. Wash filter A

Hold under running water and squeeze gently until the water runs clear. Squeeze and twist filter to remove excess water.

4. Wash filter B

Wash the inside under cold, running water. Repeat until the water runs clear. Firmly shake the filter until no water comes out.

5. Leave to dry for 24+ hours

Dry your filters in a well-ventilated, warm place for at least 24 hours. Place filter B with the open end facing upwards. Your filters must be completely dry before you put them back into the machine, or it could damage the motor.

6. Refit the filters

Screw filter B onto the back of your machine, rotating clockwise. Push filter A back into the cyclone assembly.
Emptying and cleaning the clear bin

Overfilling the bin can reduce suction and affect performance. To maintain suction, empty as soon as debris reaches the MAX marker. Cleaning the bin removes dust build-up and helps optimise performance.

Removing blockages

Your machine will pulse and then stop if there's a blockage. Our video shows you how to check and remove debris.

Washing the Dyson Fluffy™ brush bar

You can wash your Fluffy™ cleaner head's brush bar in warm water.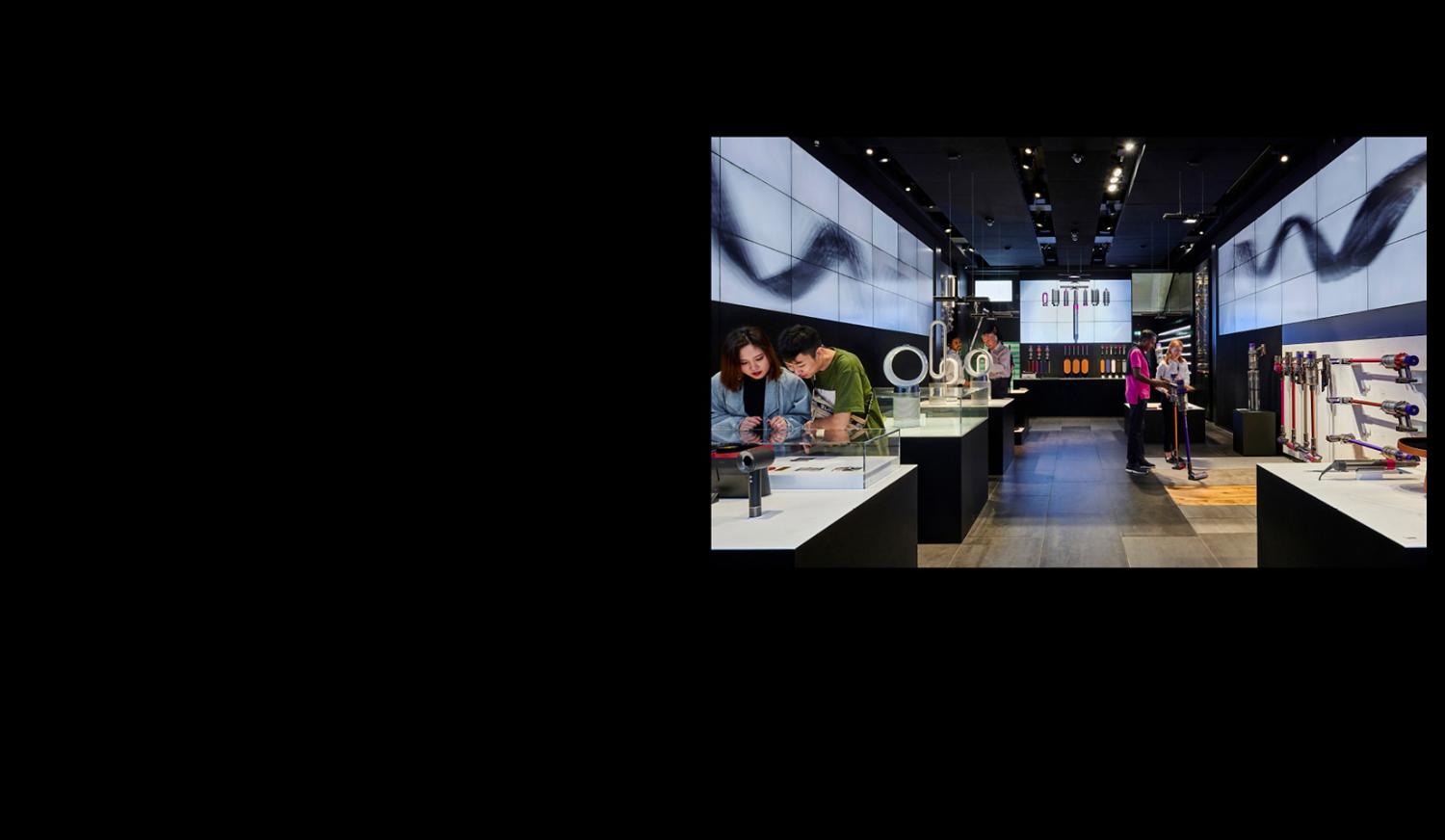 Expert advice at the Dyson Demo and online
Our Dyson Experts are on hand at the Dyson Demo store and online to help you get the most from your Dyson V8™ vacuum.
To help you get the most from your machine. Quick and easy.


Tailored reminders that will keep your machine working at its best, for longer. 


Priority access to previews of new Dyson technology, events and offers. 

Expert advice. 7 days a week.

Freephone and live chat. The right advice for your machine, from real Dyson people. 

Free Dyson parts and labour

Replacement parts or repairs if something goes wrong during your guarantee period. 


If we can't repair your machine, we'll replace it while it's under guarantee. Fast. 
We don't stop caring about our machines once they're yours. Activating your guarantee allows us to give you a tailored, complementary, direct service for your machine. Even after your guarantee has ended, we'll still be on hand to help.