Equipped with Dyson's latest Air Quality backpack
Leading session stylists, Jon Reyman, Jawara, and Larry King navigated the fast-paced, high-pressure environments of New York and London Fashion Week. The three session stylists used Dyson's automated data technology to track air quality, gathering insights into the nuanced pollutant profiles of working across Fashion Weeks – from city to city, between shows, backstage and behind the scenes.

Runway shows are often staged in unusual locations, forcing backstage into compromised spaces – be it a marquee, basement, secluded side room or period building. Team this with travel from city to city and the associated exposure to prevalent pollutant sources when on the move, and when working backstage, the product pollutants introduced to the air when styling hair; models, designers and stylists are often exposed to suboptimal air quality conditions.
Building on the pioneering technology used in Dyson air purifiers, the air quality backpack is a portable air sensing device engineered to collect air pollution data on the move, measuring PM2.5, VOCs and NO2. This latest iteration delivers automated data and visualisation through the Dyson AQ app, together with on-board sensors, a battery pack and GPS.
"Understanding our exposure to poor air quality allows us to build a picture of both the pollutant sources we might be aware of, as well as alerting ourselves to the more unexpected culprits. Becoming more conscious of our surroundings – particularly routes we travel regularly or environments we find ourselves in frequently – allows for planning ahead to minimise exposure to poor air quality."
Dyson Air Quality engineer, Toby Godwin
New York

Walking the bustling streets of New York, Jon Reyman was exposed to peaks in PM2.5, PM10 and VOC, particularly when passing sources such as a construction side, waiting traffic and street food vendors. Larry experienced similar in London, standing at a traffic crossing and when travelling by tube. Air quality improved almost instantly as Larry stepped from the station to the street, where pollutants are no longer confined to an enclosed space and able to disperse into the atmosphere.

 

Toby explains: "These short bursts of exposure can reach surprisingly high levels. Stepping one street back from the main thoroughfare, where congestion is lower, Jon and Larry's levels improved from Poor to Fair or Good. Travelling by tube or subway is often unavoidable. However, avoiding non-essential exposure around your journey, such as waiting for a colleague or friend outside the entrance, rather than on the underground platform can help to limit this exposure."

 

By comparison, Jawara walked between shows on the New York High Line – an elevated linear park, raised above street level. "Here, we see the benefits of distance from pollutants." Toby comments. "Separation from street level allows ground-level contributes to dissipate considerably before they reach Jawara and therefore, although present, track at much lower rates. As there are fewer sources of pollution directly on the High Line, Jawara was exposed to better quality air. This is likely to be the same in other green spaces such as Central Park, or London's Hyde Park."

London

Stepping from the street into the confines of backstage, the air can be full of hidden pollution – from larger particulate matter like hair, make-up, and pollen, to gases including VOCs from hairspray and airborne styling products. Whilst use of such styling products is recommended for well-ventilated areas, this is a luxury not always possible when working backstage, ultimately contributing to compromised air quality. Toby explains: "As a rule of thumb, any products you can smell are likely to be as a result of the high levels of VOCs you are inhaling."

 

The theatrical locations of runway shows often force backstage spaces into unusual locations – be it a marquee, basement, secluded side room or period building. Team this with stylists introducing high levels of VOCs from concentrated styling product usage, models, designers, and stylists are often exposed to suboptimal air quality conditions. A sharp increase in CO2 levels was also identified for all stylists as a result of high numbers of people breathing within an enclosed environment.
"Numerous daily activities cumulatively contribute to an individual's personal air pollution exposure. Using a purifier, taking fresh air breaks or wearing a face covering can help to minimise the levels getting into your airways when working in proximity with such contaminates."
Dyson Air Quality engineer, Toby Godwin
Over 20 years of air quality research
Dyson engineers have been researching clean air technologies for over two decades. Using their advanced knowledge, engineers reworked the sensing technology in Dyson purifiers, making it lighter, smaller and portable enough to fit into a backpack. Three sensors use unique algorithms to process data. The first measures temperature and humidity. The second detects gas such as Nitrogen Dioxide (NO2), and the third uses lasers to detect PM2.5 and PM10. This data is combined with information gathered from the on-board GPS to create reports on air quality.

The air quality backpack was initially developed by Dyson engineers for the Breathe London study with Kings College London and the Greater London Authority. The ambition is to use Dyson's air quality backpack to empower individuals to actively reduce their personal air pollution exposure through global projects that raise awareness about air quality around the world.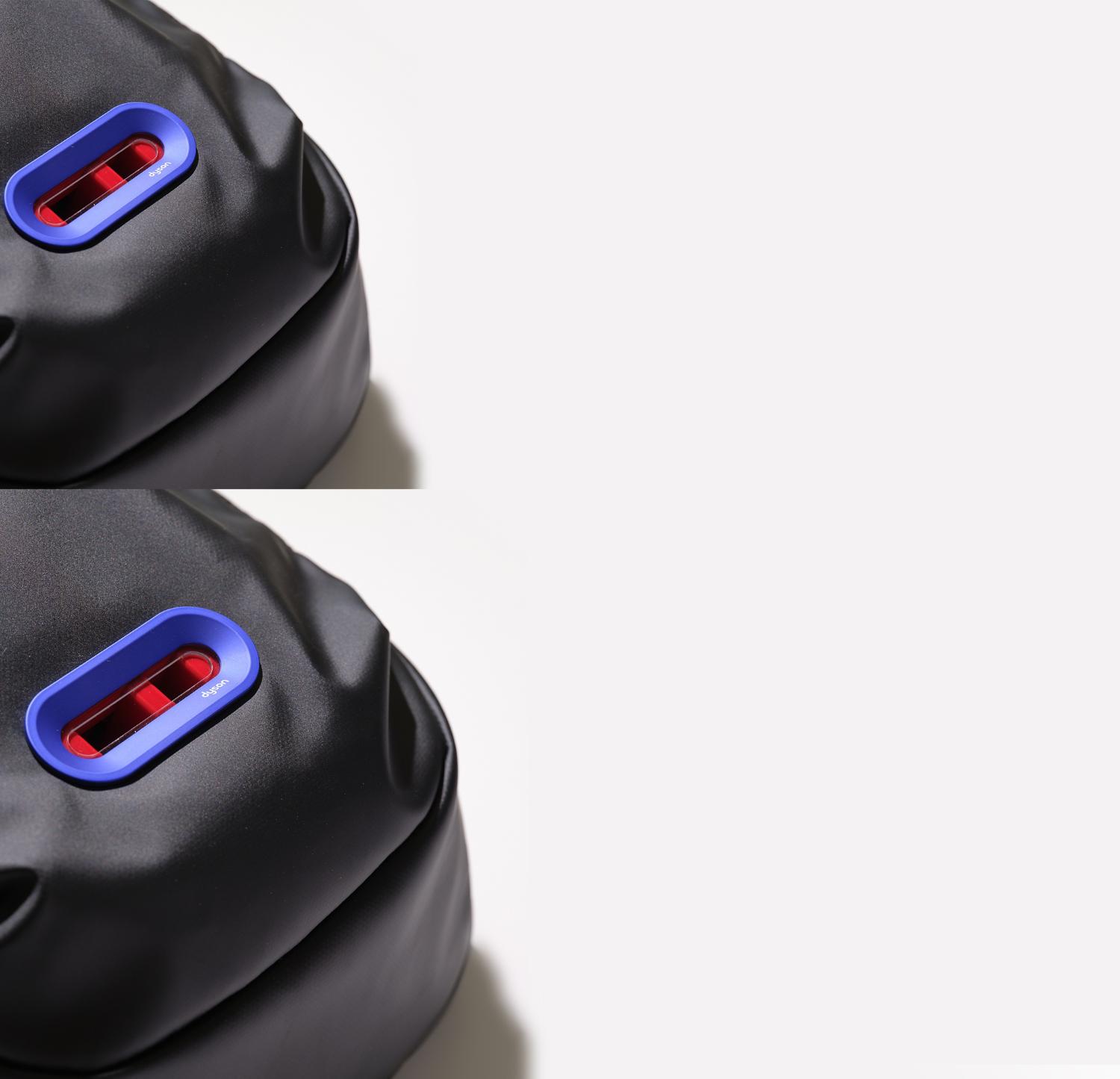 In the next phase of Dyson's air sensing technology, Dyson refreshes its air quality backpack with improved sensing, and an accompanying app to track air pollution in real time, encased in a sleek bag exterior. Working with influencer partners, from wellness enthusiasts to adventurous globetrotters, Dyson's air quality backpack will make the invisible visible, educating about pollution sources and ways to reduce exposure.
The latest iteration of this portable air monitoring device can now measure CO2, in addition to PM10, PM2.5, VOCs, and NO2; and delivers automated data analysis and visualisation through the Dyson Air Quality (AQ) app.


More Dyson wearable technology projects around the world:
Dyson's air quality sensing backpacks used in air pollution and asthma research across Africa

World Champion Australian cyclist explores relationship between breathing clean air and wellbeing.

Commuting around Paris with Dyson's air quality backpack
USA

Emails us at USPR@Dyson.com

1330 West Fulton Street, 5th Floor, Chicago IL, 60607