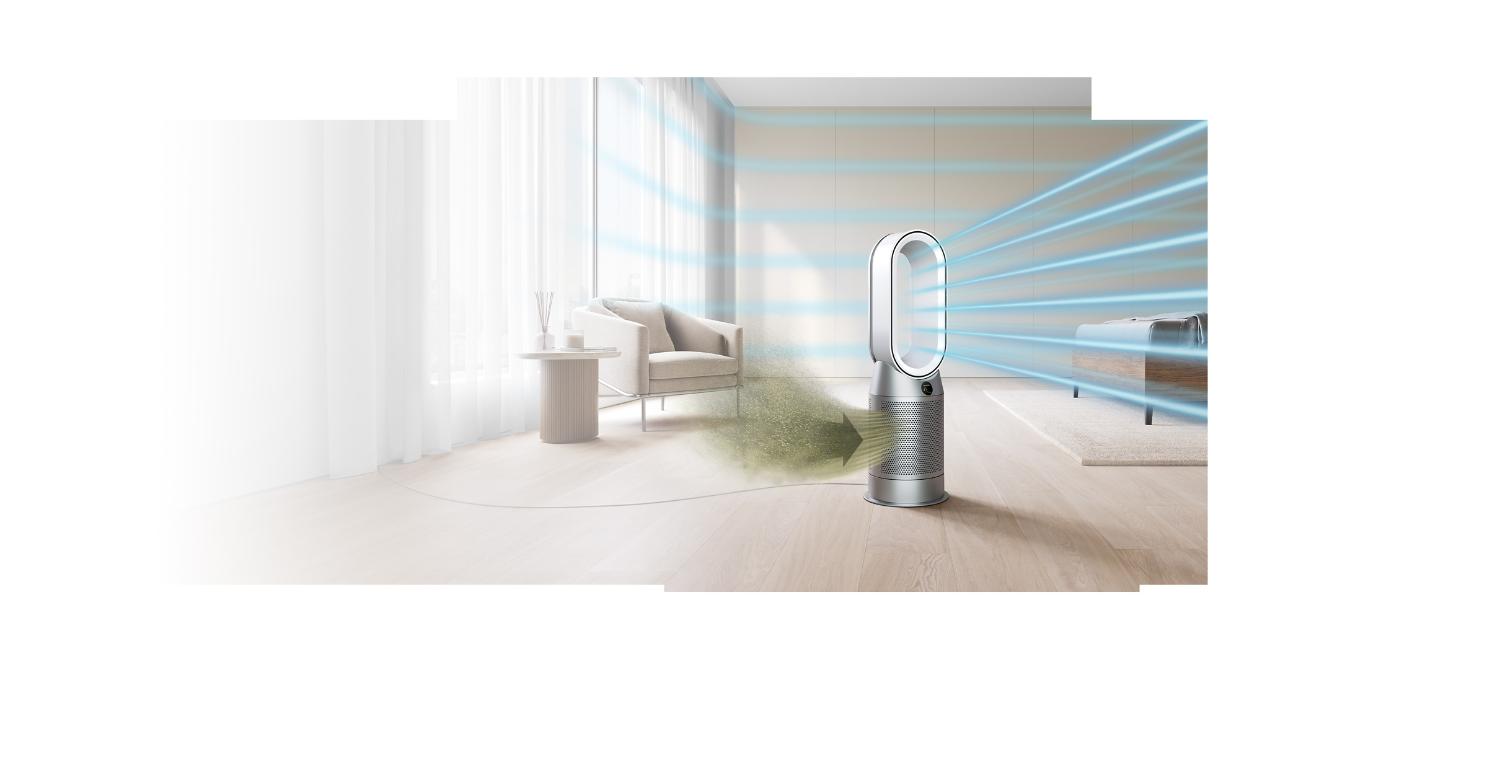 Dyson Purifier Hot+Cool™ purifying fan heater
Captures dust, allergens and viruses.
Removes 99.95% of ultrafine particles
Purifies and heats the whole room
Fully-sealed to HEPA standard – what goes inside, stays inside
Air valve motor
The valve mechanism is driven by a brushless stepper motor, to allow remote actuation and switching between Diffused mode and Fan mode.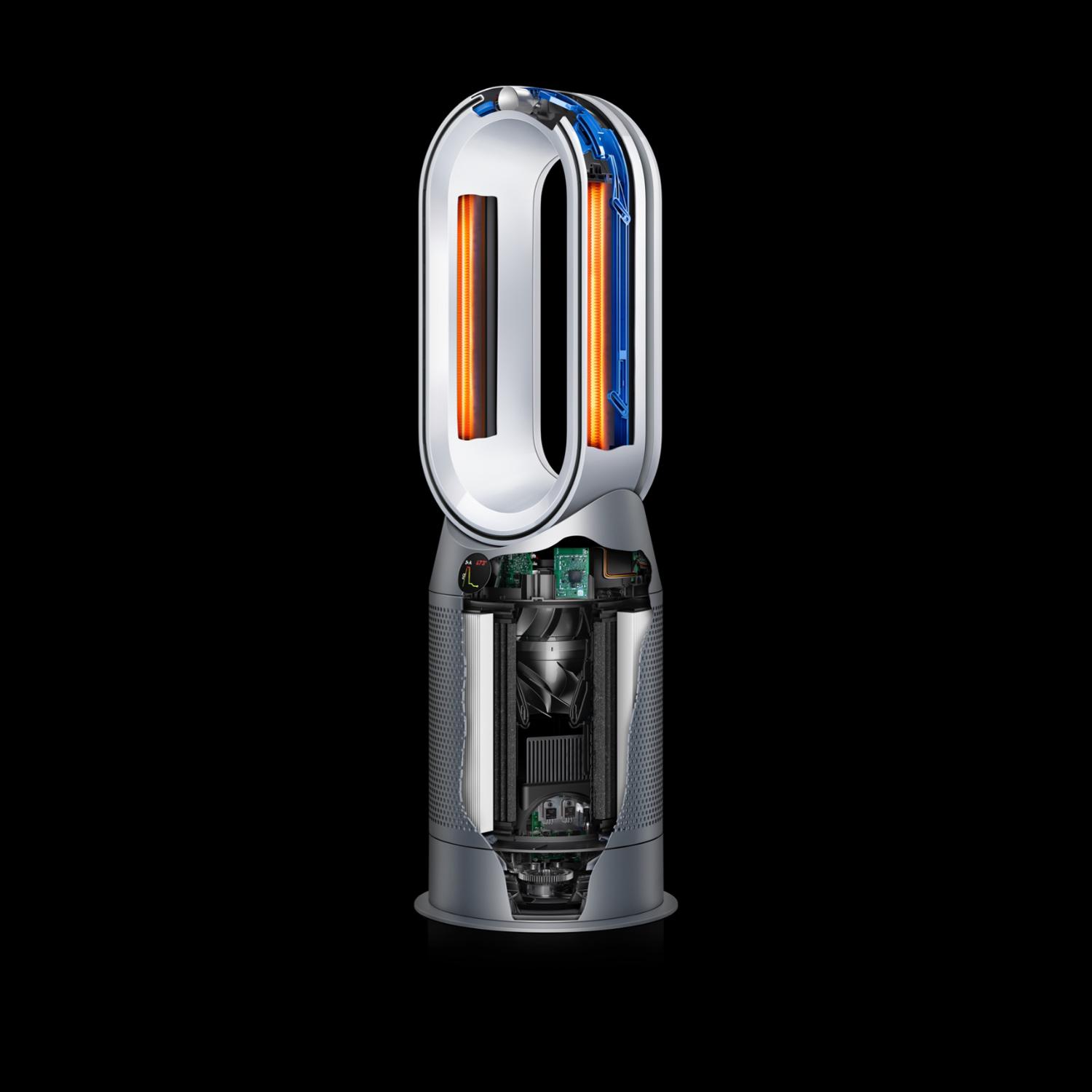 Powerful circulation to purify the whole room
Only Dyson purifiers have Air Multiplier™ technology, to draw in distant pollutants and project purified air throughout the room.³
We test beyond the industry standard. For real living spaces.
Dyson engineers designed the POLAR test to challenge the industry test standard – measuring filtration, sensing and circulation to ensure the whole room is purified properly.
CADR is not a measure of purification performance in a real-size room 28.5m³

Two additional fans boost circulation. Only one sensor measures air quality.

Dyson's POLAR test goes further to measure purification throughout a real-size room 81m³

No additional fans. Nine different sensors to measure even-room air quality.
Common household pollutants
Formaldehyde (HCHO)

Carpets, rugs and flooring

Odours

Household fumes and cooking

Benzene and VOCs

Cleaning products and candles

Nitrogen dioxide

Gas stoves and car exhausts
Senses and reports, automatically
Three sensors constantly analyse your air, while our unique algorithm cross-checks data every second. To precisely monitor, display and react to your air quality.

Captures and destroys with advanced HEPA filtration
The HEPA filter captures 99.95% of particles as small as 0.1 microns.¹ Activated carbon absorbs gases⁴, odours and VOCs.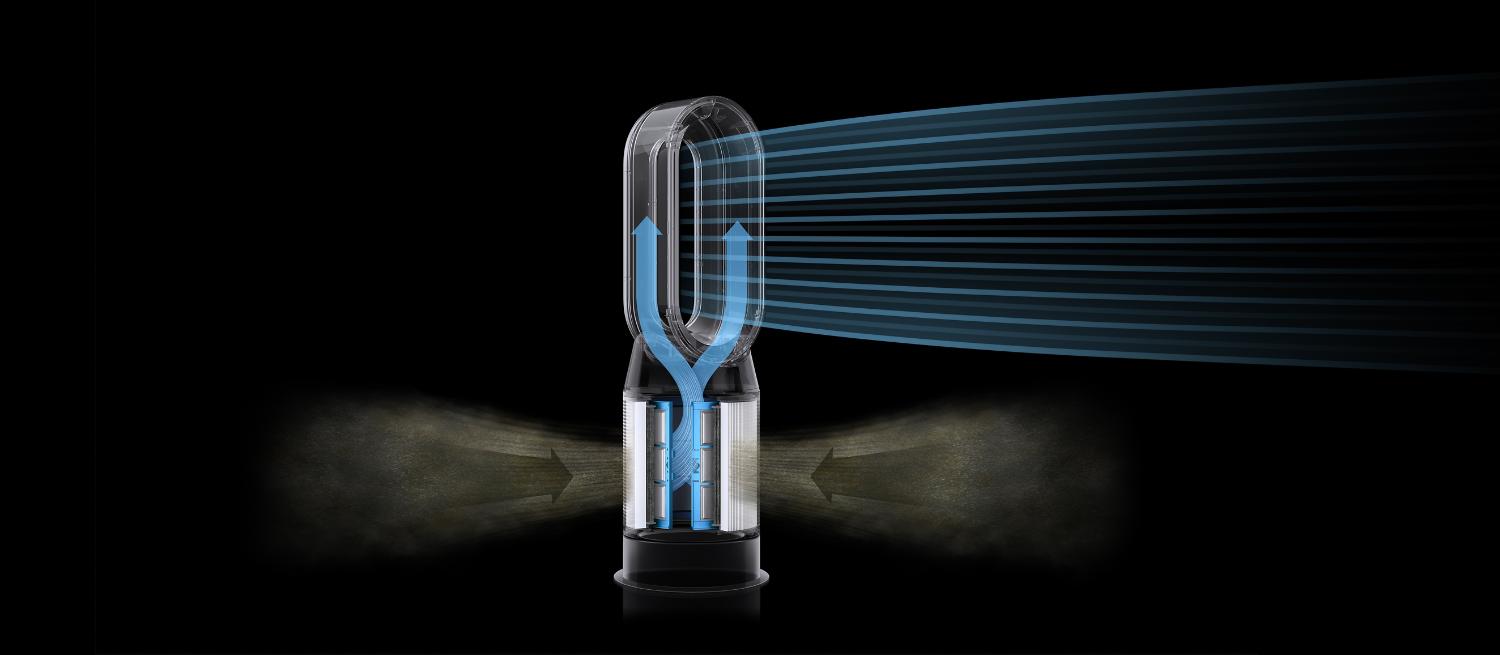 The only purifier fully sealed to HEPA H13 standard
To prevent pollutants leaking back into the air, it's not just the filter that's sealed to HEPA H13 standard, it's the whole purifier. So what goes inside, stays inside.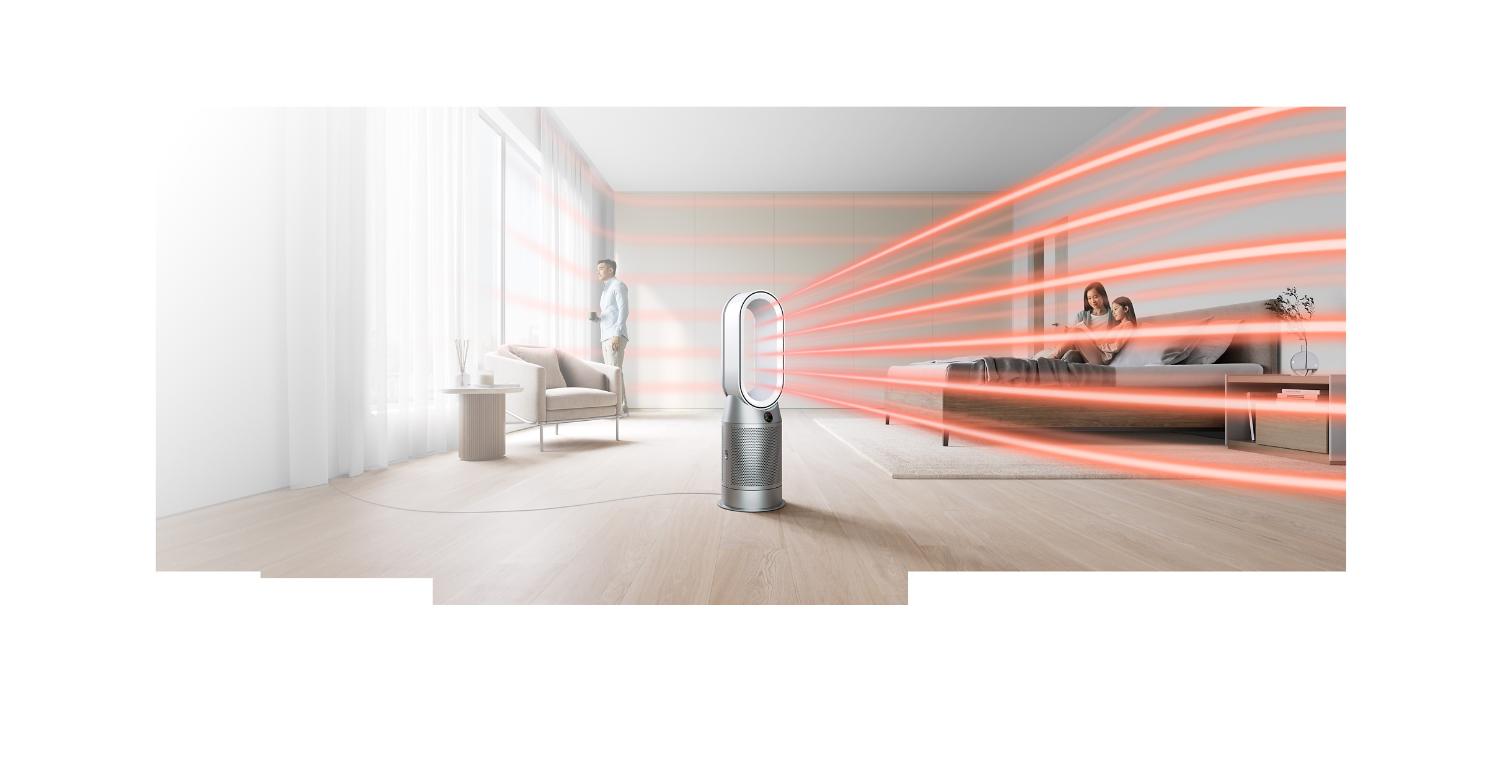 Fast, even room heating
Air Multiplier™ technology projects purified, heated air throughout the room. Once your target temperature is reached, heating automatically stops.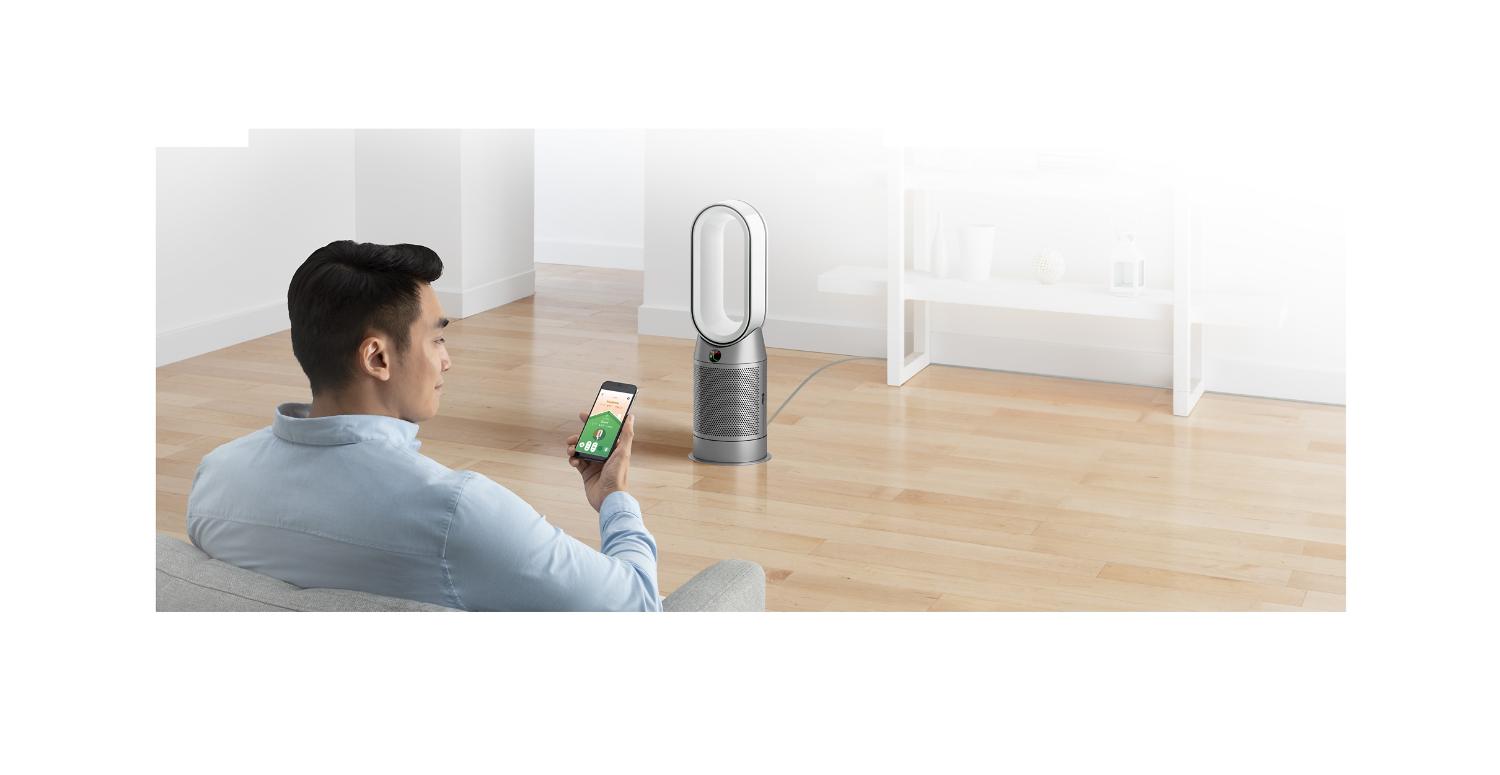 Smart purification, controlled by app or voice
Control and monitor air quality from anywhere with the Dyson Link app,⁶ or hands-free with compatible voice services.⁷
Download the Dyson Link app⁵
Cools you in summer

Projects over 290 litres of air a second for cooling airflow.

Diffused mode. Purifies without cooling you.

Airflow is diverted through the back of the machine, maintaining effective purification.
Night mode

For lighter sleepers, it monitors and purifies using the quietest settings along with a dimmed display.

Easy filter care

Your HEPA+Carbon filter is easy to change and the Dyson Link app⁶ lets you know when it's time.
Frequently asked questions
How often should I replace my filter?
We recommend replacing the HEPA+Carbon filter every 12 months. That's because over time, filters can get clogged with pollutants, and even let unpleasant odours back into the room. The machine will alert you when it's time to change filters. A filter life reading can be found on the LCD screen and via the Dyson Link app. The catalytic filter never needs replacing.
1

Tested for filtration efficiency at 0.1 micons (EN1822, ISO29463)

2

In maximum setting. Tested for air projection, purification coverage in an 81m3 room and heating performance in a 35m3 room.

3

Particle challenge by DEHS oil specified in EN1822 within a chamber specified inASTM F3150. Tested in Max mode at IBR US, for whole machine efficiency above 99.95%.

4

Gas capture rates may vary.

5

Requires device to run app, Wi-Fi or mobile data, Bluetooth 4.0 support, and iOS version 10 or Android version 5 (or above). Standard data and messaging rates may apply.

6

Refer to the Dyson Link App for comptible voice services.
Buy direct from the people who made it