Captures gases³ and ultrafine particles⁴
The Dyson Pure Humidify+Cool™ has a sealed 360˚ filtration system. It combines an activated carbon filter to remove gases and odours³, and a sealed HEPA filter to capture 99.95% of ultrafine particles.⁴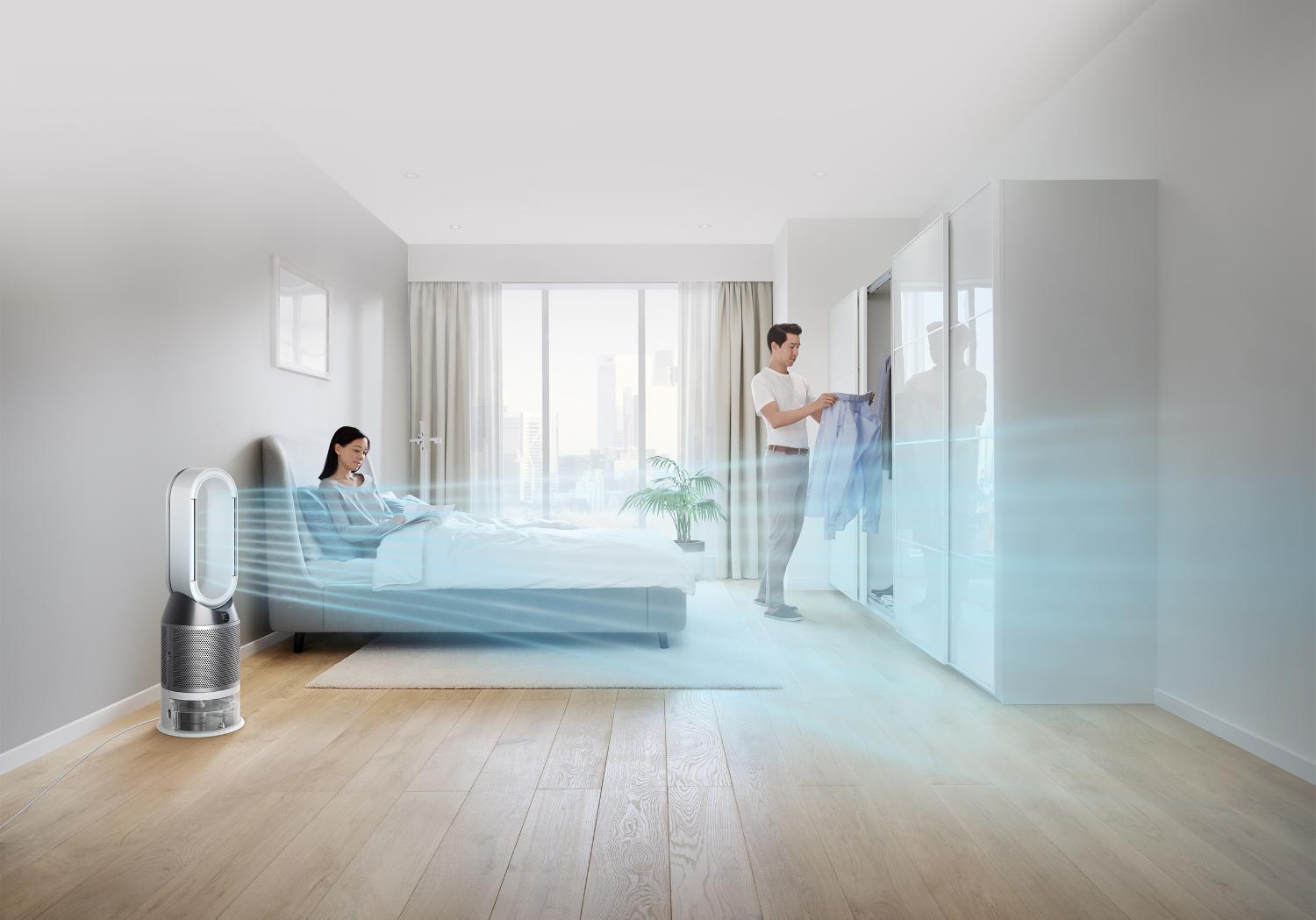 To purify the air around you
Allergens and pollutants can build up in your home. Sealed filtration captures them from the air.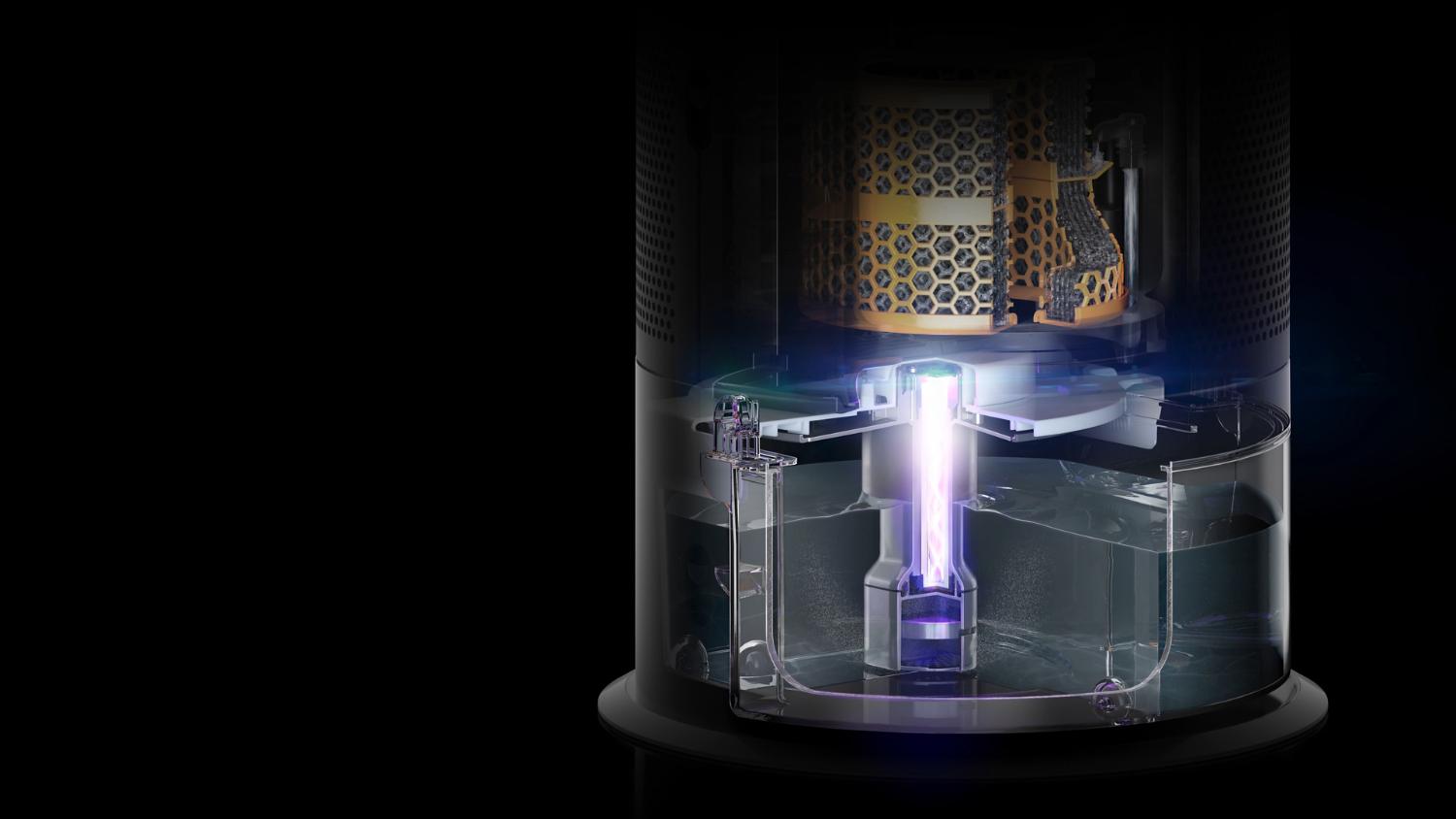 Destroys potentially harmful bacteria
Dyson Ultraviolet Cleanse technology exposes every drop of water to an ultraviolet light. This kills 99.9% of bacteria in the water.⁵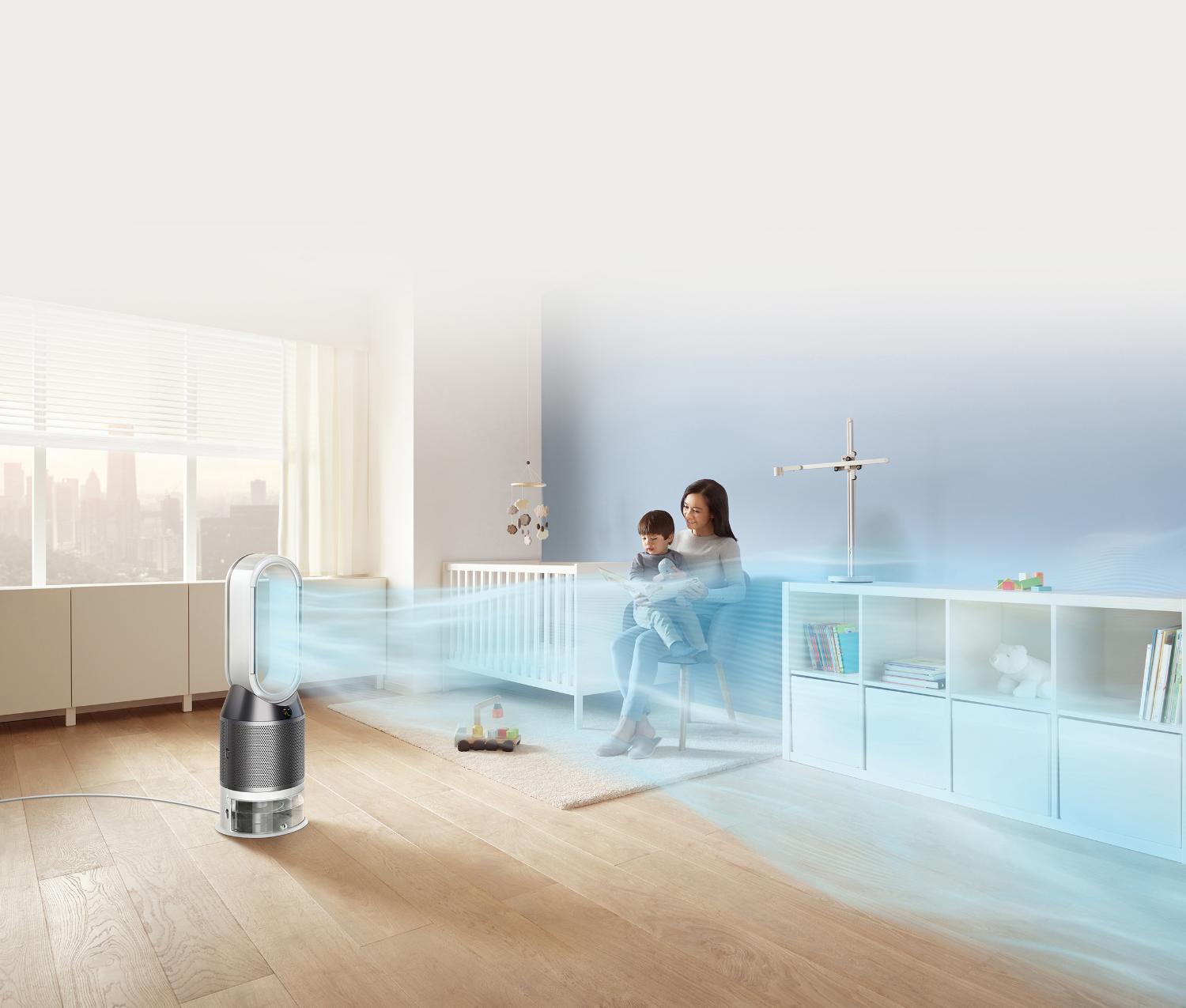 To humidify your environment, hygienically¹
Dry air can cause dehydration. The Dyson purifying humidifying fan automatically maintains the correct level of moisture in your air. For a more comfortable environment.
New Breeze mode

Unique algorithms vary the airflow to mimic a cooling, refreshing breeze.

Fan mode

Delivers a stream of cooling air from the front of the machine.

Diffused mode

Diverts airflow through the back of the machine. To purify and humidify, without cooling you.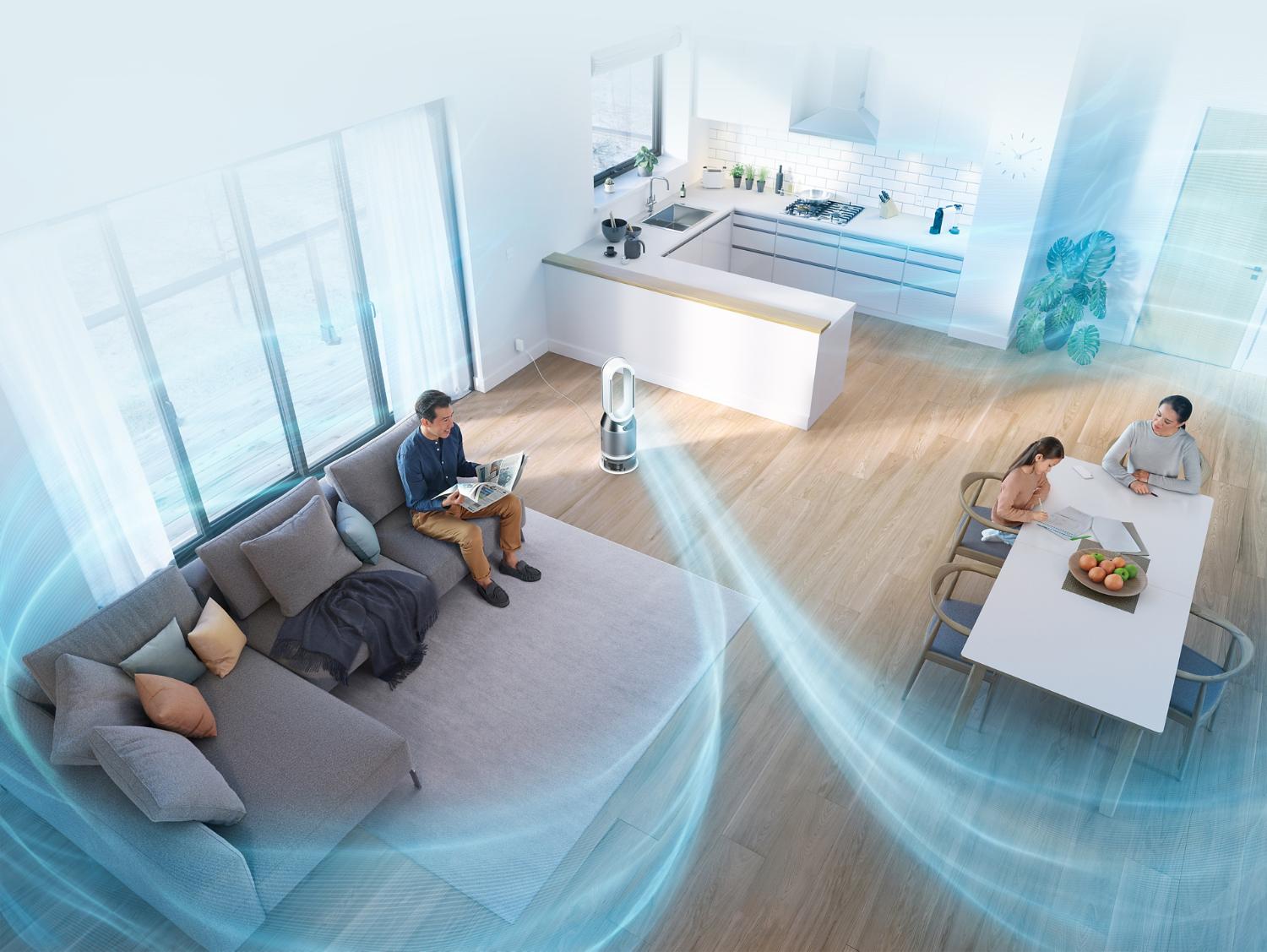 For purified, humidified airflow all year round
Circulates air throughout the whole room⁷ – cooling you only when required.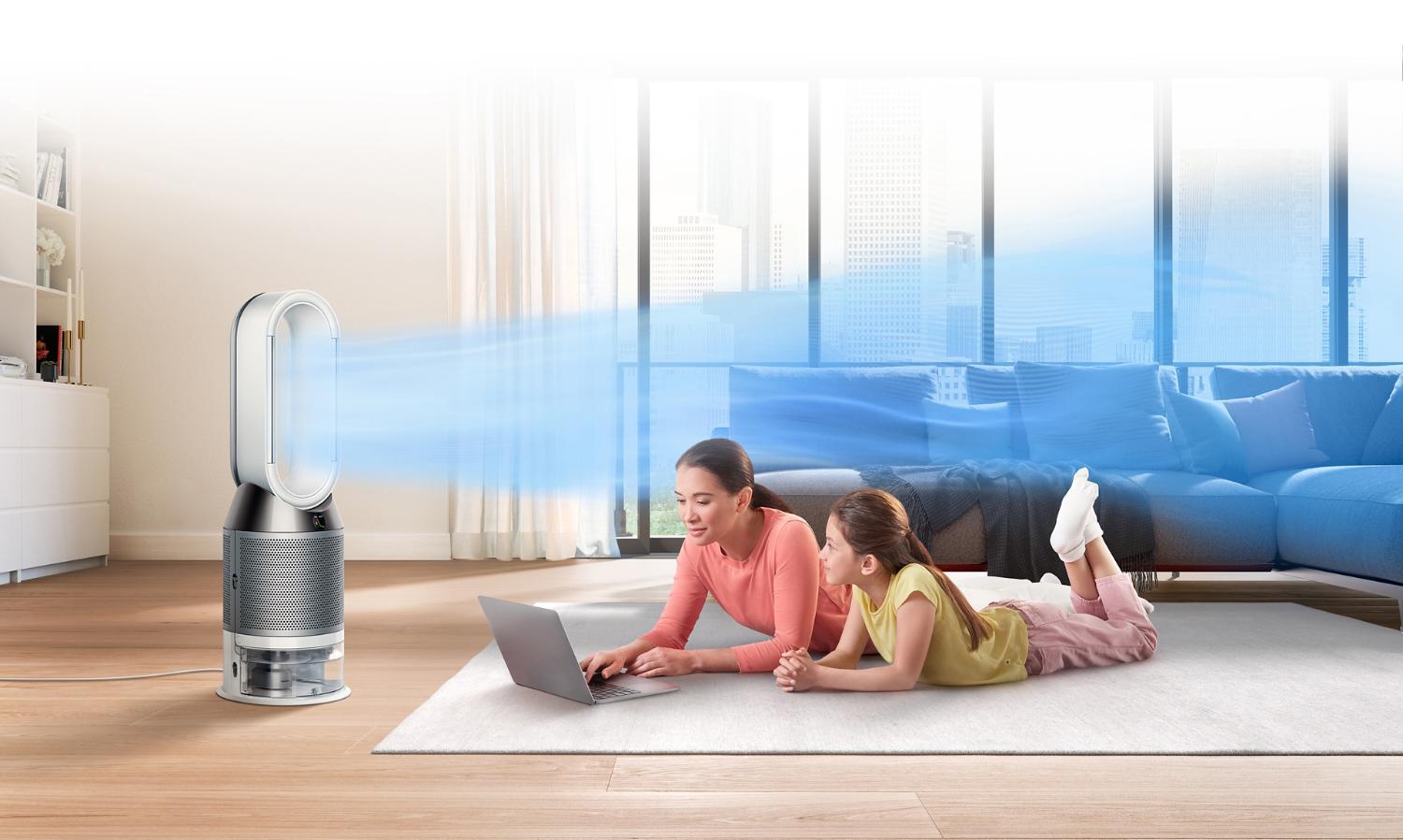 Evaporatively cools you
Keeps you comfortable on hot, dry days. The biostatic evaporator absorbs heat energy and converts it into cool, refreshing airflow.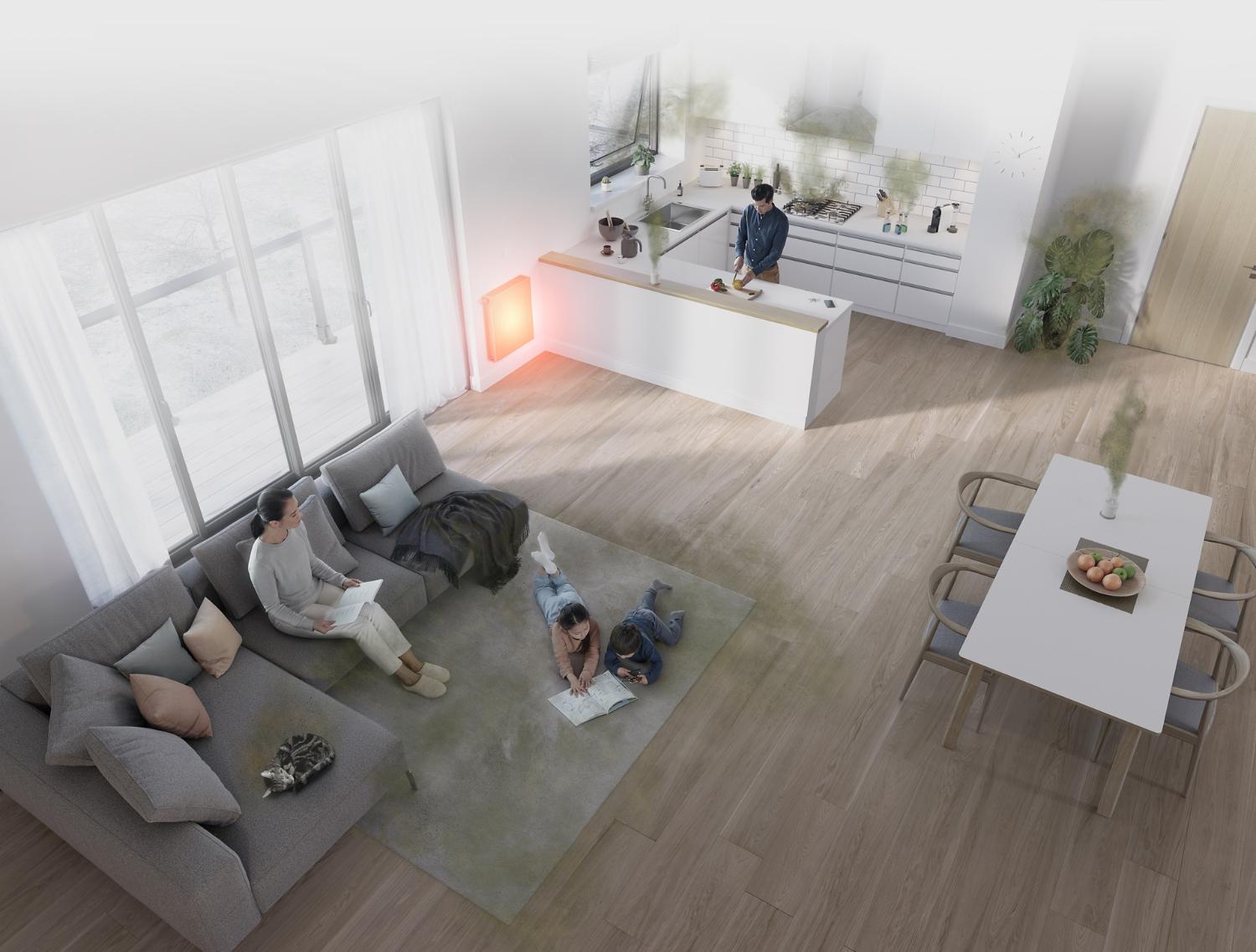 Pollutants can build up inside your home, you just can't see them
Everyday items in our homes can dry out the air, and release pollutants such as pollen, cooking fumes and house dust. As a result, air quality can be worse indoors than outdoors.

The sealed filtration system captures microscopic particles as small as 0.1 microns. Including pollen, bacteria and odours.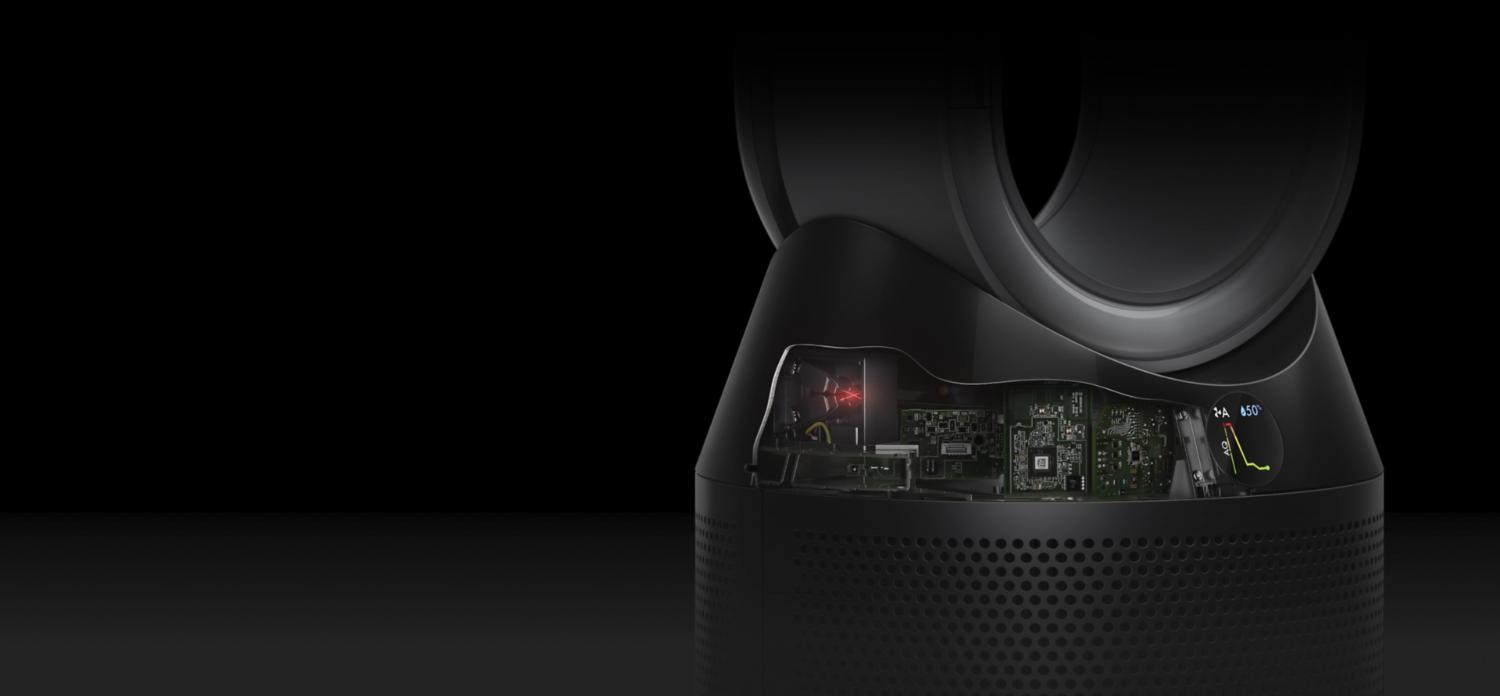 Senses pollutants and humidity levels
Intelligent sensors automatically detect airborne particles and gases, as well as temperature and humidity levels. The machine uses a unique algorithm to diagnose and manage your air quality, then processes the input for real-time reports.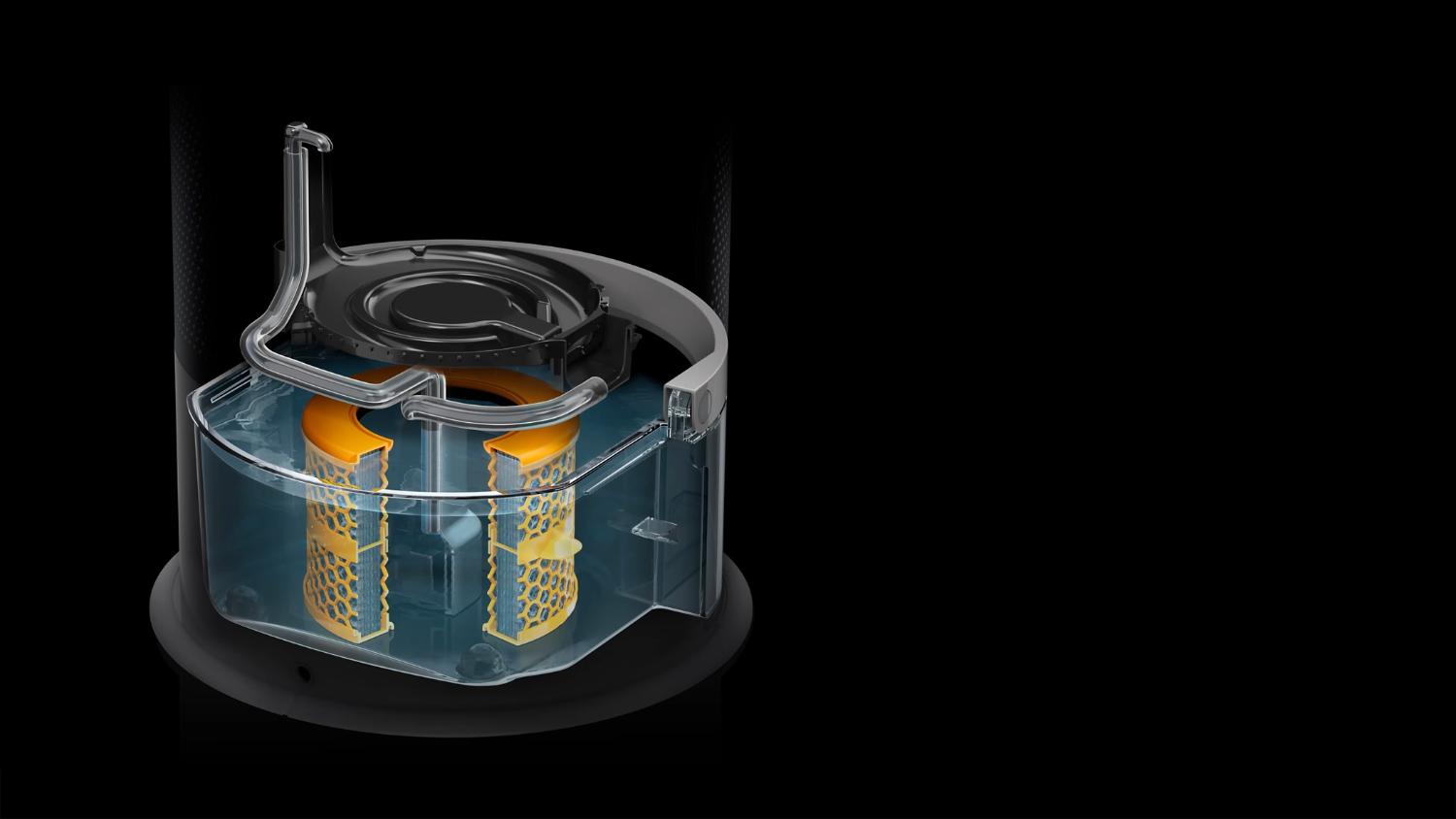 Hygienic performance that lasts
Dyson's hassle-free Deep clean cycle eliminates bacteria and limescale, throughout your machine's water system. You can activate it at the touch of a button, and it will guide you through the simple step-by-step process.
Jet Axis control

Take full control of your airflow, all year round. Two oscillators guide the airflow through the apertures, at a 90˚ range. They project separately, or in unison, so you can choose different airflow modes.

Biostatic evaporator

Biostatic silver strands are woven into the evaporator's 3D air mesh to prevent bacteria growth. This helps it humidify the HEPA-filtered air, hygienically.¹

Over 36 hours⁸ of hygienic humidification¹

An efficient water management system and a 5 litre water tank gives you continuous humidification, without regular refilling.
Frequently asked questions
How often should I run a Deep clean cycle?
This depends on the water hardness where you live. The machine prompts you to run the cycle once a month in hard water areas. It prompts you less often in softer water areas. You can select your water hardness with the Dyson Link app.
Buy direct from the people who made it
1

Tested to DTM – 004533 and DTM - 004532.

2

For app compatibility, please search for Dyson Link on the iOS App Store or the Google Play Store.

3

Gas capture rates vary

4

Filter efficiency tested at 0.1 microns (EN1822)

5

Tested to DTM – 004533.

6

Tested to DTM-801, in fan mode, at speed 10.

7

Tested for purification coverage in an 81m³ chamber. Tested for humidification coverage in a 41m³ chamber.

8

Based on fan speed 1