Celebrating Pride at Dyson
As Pride month begins around the world, we take a moment to shine light on Dyson's LGBTQ+ community by interviewing members of our employee-led PROUD network.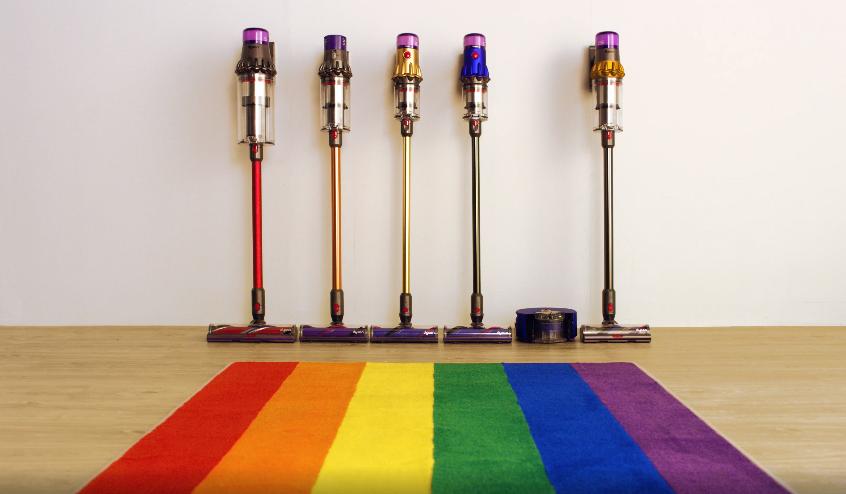 Great minds don't think alike. And it takes all kinds of minds to make Dyson machines so unique. Throughout history, the engineers and scientists who have embraced different and new ways of thinking have been able to make breakthroughs in their field. In fact, true innovation comes from radically reinventing what has come before, engaging with different points of view and finding new ways to solve problems.
Engineers are the world's problem solvers, but we continue to face a global shortfall of engineers. Failing to address this problem is expected to cost the UK economy alone £27 billion every year and will stall vital innovation that might solve the global problems faced today. Despite this urgent need for engineering talent, research suggests that the LGTBQ+ community is often underrepresented in Science, Technology, Engineering and Mathematics (STEM). 28% of LGBTQ+ people have at some point considered leaving their jobs in STEM because of a hostile workplace or discrimination towards them[1], an estimated 20% of trans people have often considered leaving the industry[2], and gay and bisexual students are less likely to follow an academic career in science, engineering and technology in the first place[3].
At Dyson, we're proud to celebrate our people, from all backgrounds and are true to themselves.
Every year, Dyson people around the world attend and support Pride Events local to their communities through our internal PROUD Network. In 2022, Dyson will again take part in Bristol and Chicago Pride celebrations, among other global events. We look forward to sharing more across the coming months…keep an eye out for Dyson machines as you've never seen them before!
To kick the celebrations off, we shine a light on the LGBTQ+ community at Dyson in an interview with some of the members of Dyson's employee-led global PROUD network – Drew, Sammantha, Chris and Demetri.
Drew

Senior Mobile Development Manager

Pronouns: they|them|their

 

Drew has worked at Dyson for nearly five years, leading the development of the Dyson Link mobile application. This app enables owners of Dyson connected products, such as the robot vacuums and purifiers, to get the most out of Dyson technology to improve their cleaning routines and air quality around the home, with smart benefits.

Outside of work, Drew is a busy musician, performing and recording with various bands around Oxford and London.

 

What inspires you about engineering, technology and "problem solving"?

I work in software and for me it's all about people. I'm either solving a problem that improves people's lives or allowing them to do things that they otherwise could not do! The top two things that give me satisfaction in the world of software development are: seeing real people enjoying and using something I've helped to build, and watching creative people at Dyson work together every day to solve new problems and create innovative technologies.

 

What challenges do the LGBTQ+ community face in engineering and the workplace?

I think one challenge is visibility – seeing people like ourselves in the workplace. This is a major part of being able to be our true, authentic selves at work. Some may want to keep their personal lives separate from work and that's their choice, but there are a certain number of assumptions about people's lives, what we call heteronormativity, that do carry through into product and policy decisions.

These things are easier to change if people are visible; we can see each other and speak up in numbers. Plus, it's been proven that having employees who are comfortable being themselves at work will improve business outcomes!

 
What inspired you to join the Dyson LGBTQ+ Employee Network? What are some of the initiatives you've driven or taken part in?
When I first joined Dyson, I looked for an LGBTQ+ group as I wanted to make it a part of my working life, so I could be myself at work. I didn't really talk about it openly at my previous place of employment, so it felt like a step I wanted to take at Dyson. I took part in the parade at Bristol Pride in 2019 and the 'virtual parade' in 2020. I'm also involved in promoting Diversity and Inclusion in the workplace across the business.
What would you say to young people from the LGBTQ+ community considering a career in engineering or technology?
Young people today have grown up in an environment where information about the rainbow of LGBTQ+ experiences is more available than ever before, and many more of them know someone in their circle who are a part of this community. I grew up under the shadow of Section 28 where it was illegal to talk about this in schools and colleges. To young people – LGBTQ+ or ally – I'd say: we need you to come into our industry and bring some of your knowledge, acceptance and inclusivity so that it drives real change!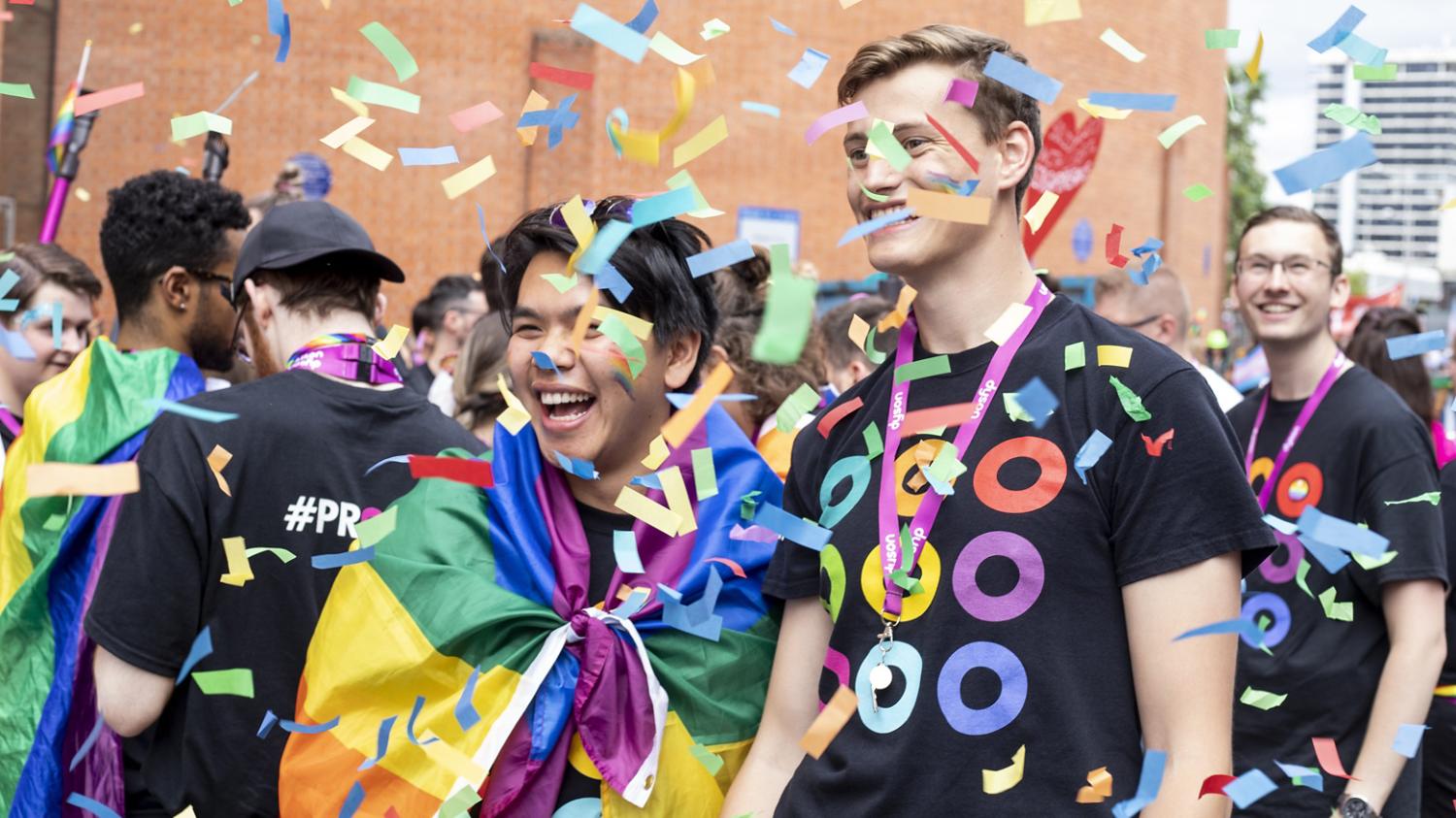 Sammantha

Senior Compliance and Approvals Regulatory Specialist

Pronouns: she|her|hers

 

Sammantha has worked at Dyson for almost eight years. Her day-to-day involves determining the applicable laws and regulations that apply to Dyson machines in the markets in which they're sold around the world, which informs the design of some of our technology. She has worked on a range of products, including the Dyson Supersonic hair dryer, the Dyson Airwrap styler, and most recently on the Dyson Zone air-purifying headphones.

Outside of Dyson she has been active in the LGBTQ+ community for a number of years; has previously given evidence to The Women and Equalities parliamentary committee on LGBT+ Healthcare; is involved in the current UK campaign against conversion therapy and previously sat on the Joint Strategic Advisory Group for Gender Responsive Standards for the International Organization for Standardization (ISO).

 

What challenges do the LGBTQ+ community face in engineering?

Engineering can still be a hard place to be especially as a woman, let alone when you add being LGBTQ+ on top of that. In some workplaces, there can still be a "boys club" attitude, and in my view every initiative to move away from that culture is a step in the right direction towards more inclusivity and innovation.

I transitioned at Dyson around 6 years ago now. Before you come out you never know how it's going to go, and at the time there was no guide internally to follow. Based on my own experience, I worked with the HR team at Dyson to develop a framework to support those transitioning at Dyson. We now have strong internal policies and guidance to support people transitioning and we continue to evolve these. 

 
What inspired you to become an engineer?
As a child, I could often be found tinkering with things around the house and I had great female role models in my science and maths teachers at school. However, I think I still had a lot more opportunities to get into engineering than I would have if I had grown up being seen as a girl. I feel I had more leeway in that I wasn't shamed as much by classmates for my "geeky" or technical interests.
What inspires you about engineering and "problem solving"?
Knowing that there is always a solution to an issue is really motivating. You might fail to find it at first or even after several attempts but usually something elegant emerges, or you go back and have to think about it from a completely different angle. As an engineer, you can't be afraid of failing a few times, just as long as you're learning from the attempts.
What motivated you to join and help run the Dyson LGBTQ+ Employee Network? What are some of the initiatives you've driven?
I actually got into it accidentally! I started organising panel talks and events in 2018 and really enjoyed it and have now been officially helping to run the global network since the beginning of 2019.
I've mainly driven awareness pieces, visual identity and policies for the network, which has been a great creative outlet alongside my day-to-day role. I was also responsible for co-developing the current Gender Identity and Expression Policy, which was launched to coincide with Trans Day of Visibility in 2020, so that anyone who transitions has a framework to help guide them and their manager.
What would you say to young people from the LGBTQ+ community considering a career in engineering?
There's a shocking statistic in the UK that 1 in 3 workplaces would be unlikely to consider hiring a trans candidate, and more specifically only 25% of engineering firms are agreeable to the idea. But engineering as an industry is far better now for the LGBTQ+ community than it was even ten years ago. Companies are really starting to realise that they need diverse talent to be able to design and develop the best products and come up with the best solutions. I've seen things moving away from the "one-size-fits-all" environment that we used to see, and there are also many more LGBTQ+ based engineering organisations, such as InterEngineering that look to support LGBTQ+ engineers.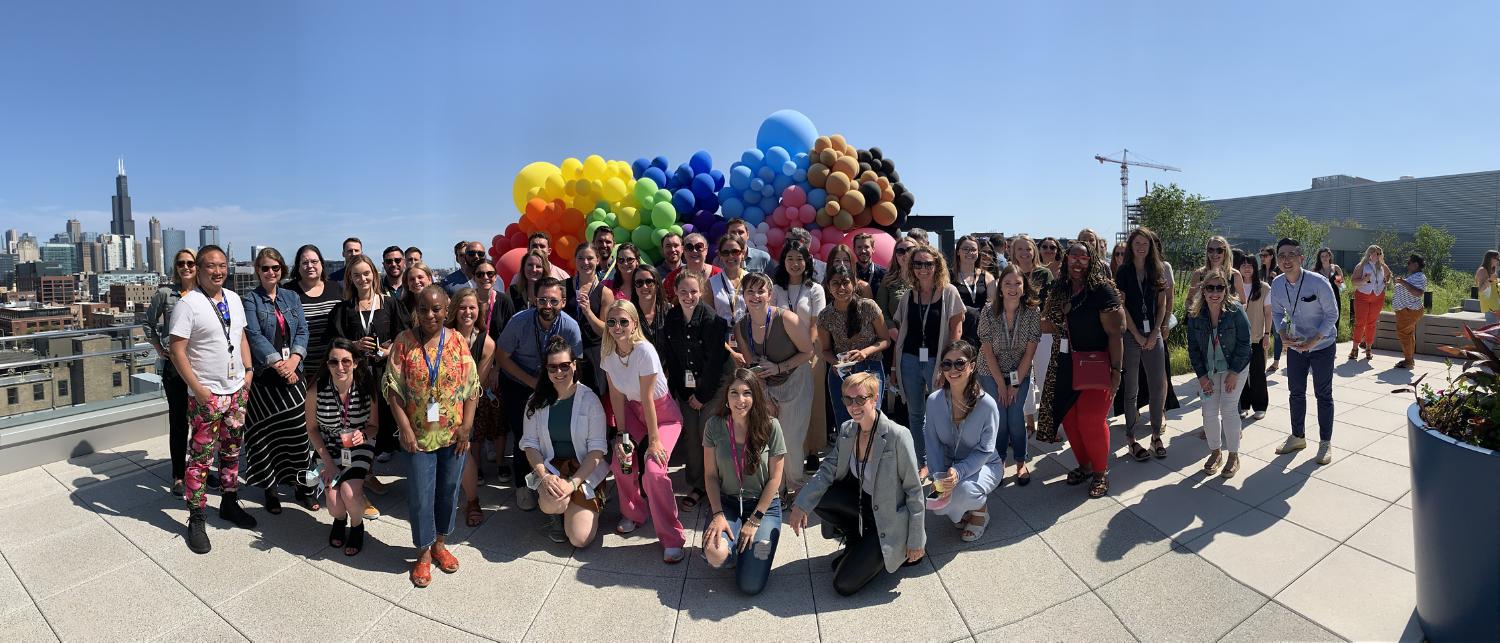 Chris

Lead Mechanical Engineer, Floorcare Design Team

Pronouns: he|him|his

 

Chris is a Lead Mechanical Engineer responsible for a range of mechanical and thermodynamic design solutions in Dyson's floorcare products. He oversaw the testing and validation of the Dyson Omni-glide's unique 360-degree caster wheel design and developed heat management solutions for the V15 Detect vacuum's laser fluffy head.

Chris is co-chair of Dyson's LGBTQ+ Network: PROUD. At home, he can be found using his 3D printer to design gadgets and robots in his spare time.
"I have found engineering, particularly at Dyson, to be one of the more inclusive careers for LGBTQ+ individuals – as engineers always like to keep an open mind. However, there is still much more that can be done for diversity and helping people achieve their full potential."

Chris, Lead Mechanical Engineer at Dyson

 

What inspires you about engineering and "problem solving"?

Like most engineers, I aspire to improve our world in some way, no matter how small. Knowing I have perhaps helped someone somewhere make their home that little bit cleaner and brought a little joy to their lives is very inspiring!

Ever since I was young, I've always loved taking things apart to see how they work; improving and putting them back together. I always knew I wanted to do engineering; the hard part was deciding which type. I've always had a love of sci-fi so ended up studying Aerospace but now have opportunity to work on technologies that impact people's day-to-day lives. I knew I was gay from my early teens, but never once did it occur to me that that realisation could affect how my entire career would play out.

 

What challenges do the LGBTQ+ community face in engineering/the workplace?

It's well known that the engineering industry is male dominated, which can bring with it some ingrained "traditional" views towards masculinity and sometimes an aversion to anything that differs from that norm. This presents unique challenges to both women and LGBTQ+ persons alike in the industry as they often feel a need to fit in with this masculine culture causing them to suppress their natural personalities, which hamper overall morale, productivity and creativity. The protection of the rights of trans individuals have recently been making headlines and so there is clearly much more we can do both as a network, company and as a nation to push for equality for all. I firmly believe everyone can help in their own small way by just acknowledging these issues exist and being respectful and understanding in the workplace. 

 

What inspired you to join the Dyson LGBTQ+ Employee Network? What are some of the initiatives you've driven?

About eight years ago, while drinking coffee with a colleague only about one year into my Dyson career, we commented on the fact that it felt odd for a company as big and influential as Dyson to not have a dedicated LGBTQ+ support network. I had previously been a member of my university's LGBT+ society and so drew on my experience from that to go about establishing Dyson's first D&I network! Over the years, we've supported and provided guidance for the creation of new workplace policies to improve the D&I experience of Dyson people and have helped to implement unconscious bias training. Next we hope to raise Dyson's Equality Index to better position ourselves on the Stonewall Index, and promote Dyson as a diverse and equal-opportunities employer.

 

What would you say to young people from the LGBTQ+ community considering a career in engineering?

Even in the few years I have been in engineering, I have witnessed some monumental shifts in attitudes to diversity and inclusion for the better. There is a huge amount of national and international support for LGBTQ+ persons in engineering. While my experience has only been extremely positive and supportive at Dyson there is still so much more we can do, with support for trans individuals being a hot topic right now. One of our own PROUD members is even leading the charge in protecting trans people in the banning of conversion therapy.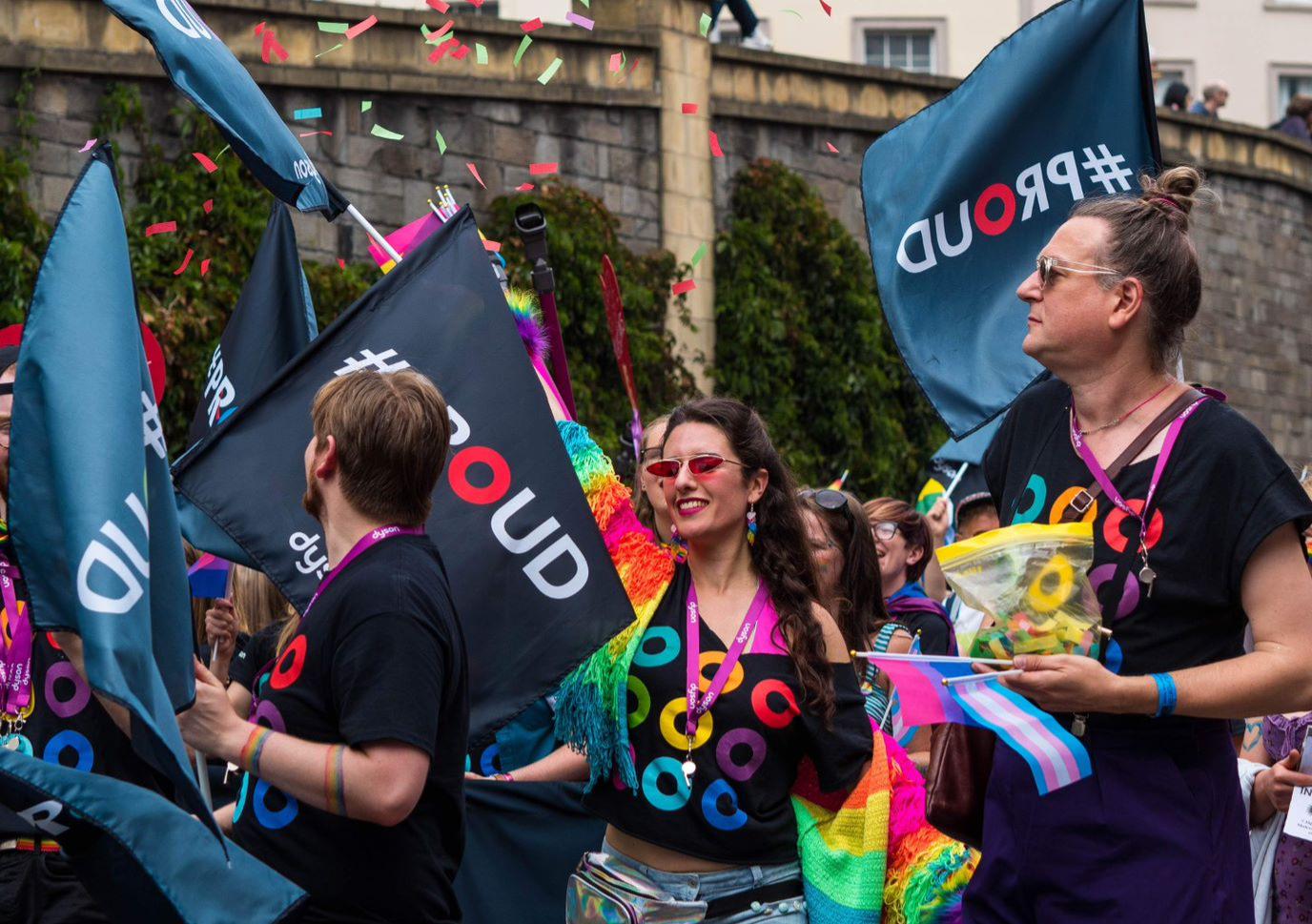 Demetri

Beauty Labs & Events Manager

Pronouns: he|him|his

 

Demetri is the Beauty Labs & Events Manager for Dyson in the UK and the Global Subject Matter Expert in Hair Science at our Beauty Labs across the country.

 

What inspires you about engineering, technology and "problem solving"?

I have a passion for problem solving and being a part of a forward-thinking company like Dyson enables me to challenge myself. From hosting events with other industry professionals in the hair care world and advocating Dyson's hair care technology, or delivering training to new joiners at Dyson and imparting knowledge and teaching new skills.

 

What challenges do the LGBTQ+ community face in engineering and the workplace?

I feel very lucky to work at Dyson. During my time with the company, I have never felt that my personal life impacts my professional work. I can have free and open conversations with my colleagues about my husband and my life away from work. I do remember times at other places of employment early on in my career where this wasn't without judgement or deemed acceptable.

 

What inspired you to join the Dyson LGBTQ+ Employee Network?

I have always thought that change and growth comes from what we do as individuals. So if you want to be a part of change, you must help and take the first step. When I found out about our PROUD network I wanted to join to see if I could bring any of my previous experience to the table and add value to the group. Also, I think being part of a group of people who have commonalities when you're new to a company helps to find your feet and give you a confidence boost. As part of this year's Bristol Pride, I will be heading up our team of hair stylists at Dyson's styling booth.